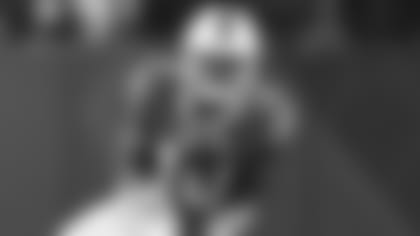 The Jets have signed seventh-year free agent wide receiver Deonte Thompson. The team has also waived WR Xavier Ubosi.
Thompson (6'0", 204) has been well-traveled and productive as a wideout and kickoff returner since entering the NFL as an undrafted free agent out of the University of Florida with Baltimore in 2012. He played three seasons for the Ravens, three more with the Chicago Bears, made three separate stops with the Buffalo Bills, and played the first part of last season with the Dallas Cowboys.
Thompson lined up against the Jets twice, both times with the Bills. In the 2017 Thursday night game at MetLife Stadium, he had seven catches for 81 yards and a touchdown in the loss to the Jets. He also had a catch for 14 yards in last season's Jets win at Buffalo. He finished last season on the Bills roster.
In 2015 with Chicago, when Jets head coach Adam Gase was his offensive coordinator, Thompson had only two receptions but for 81 yards. That year he also averaged a career-high 29.2 yards on 14 kickoff returns. The next year he led the NFL with 35 returns (for 804 yards) with the Bears.
His best season as a WR was 2017 when he had 38 catches for 555 yards split between Chicago and Buffalo.
For his career Thompson has played in 66 games with 22 starts and has registered 94 receptions for 1,193 yards (12.7 yards/catch) and four touchdowns. He also has returned 88 kickoffs at 24.8 yards/return.
Ubosi was acquired off of waivers from New England a week ago after he signed as an undrafted free agent out of Alabama-Birmingham with the Patriots following this year's draft.