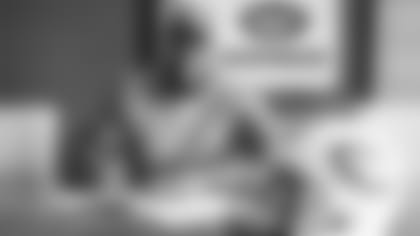 The Jets have signed defensive lineman Nathan Shepherd, their third-round selection (No. 72 overall) in last month's NFL Draft.
Shepherd (6'4", 315) grew up in Ajax, Ontario, Canada, and began his college football career at Simon Fraser University in British Columbia, the only NCAA-affiliated school north of the border, in 2011. Financial issues forced him to leave school two years later and pursue factory and construction work for two years.
But he never lost his love for the game. He kept training and saved his money and walked on to Fort Hays State's Division II football team.
With the Tigers, Shepherd showed great progress as he posted 12.5 tackles for loss as a senior and 10 sacks for his career. His level of honors also kept improving each year — from All-Mid-American Intercollegiate Athletics Association third-team honors in '15 to second-team in '16 to MIAA Defensive Player of the Year and some All-America recognition last season.
Shepherd is already getting acclimated to New York City and the Jets' North Jersey home after spending his previous three years in the middle of Kansas.
"It's so beautiful out here," he said Thursday night at the 15th annual Taste of the Jets event in the city. "The fans really embrace us as a team. It's really great being able to experience everything the Jets and New York have to offer."