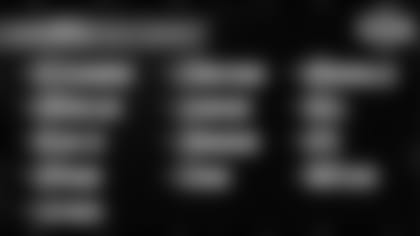 After drafting seven players, Jets general manager Joe Douglas signed 14 undrafted free agents. Here is a quick summary on each player.
DE Deslin Alexandre (6-3, 264), Pittsburgh
Alexandre was an honorable mention All-ACC and a team captain in 2021 and 2022, and was named the 2023 Jason Witten Collegiate Man of the Year. In 58 games (35 starts), he has 131 tackles, 29.5 TFL, 16.5 sacks and 8 pass defenses. Alexandre, who was born in Haiti before moving to the United States in 2022, participated in the NFLPA Collegiate Bowl. He joins his Panthers teammates T Carter Warren (fourth-round pick, and RB Israel Abanikanda (fifth-round pick).
WR Jason Brownlee (6-2, 198), Southern Mississippi
Brownlee played three seasons at Southern Mississippi after starting his college career at East Mississippi Community College, where in 2019 he was first-team NJCAA All-American honors with a national-best 75 receptions for 1,055 yards. He has good size (39.5-inch vertical jump at the NFL Combine), speed (4.59 in the 40) and jumping ability (10-11 in the broad jump). As a senior, he led the Golden Eagles 55 receptions for 891 yards (16.2) and 8 TDs. He was named to the third team All-Conference USA.
LB Claudin Cherelus (6-2, 230), Alcorn State
Cherelus played two seasons at UMass before heading south to Mississippi for his final two collegiate seasons at Alcorn State, an HBCU school. In his two seasons, he played 20 games, had 149 total tackles (87 solo), 25.5 TFL and 8 sacks for the Braves. In high school in Golden Gate (FL) High School, he also had 526 all-purpose yards of offense and 4 TDs. Cherelus was also a power forward for the school's basketball team.
S Trey Dean (6-2, 200), Florida
Dean has a lot of experience. He was named to the All-SEC Freshman team in 2018, starting 9 games for the Gators. In 2021, he led the team with 92 tackles and 10 pass defenses. This past season, he had 81 tackles, 4.5 TFL, .5 sacks and 4 PDs, earning an invitation to the East-West Shrine Bowl. Dean, who is cousins with Browns WR Amari Cooper, totaled 259 tackles, 13.5 TFL, 5 sacks, 1 FF, 24 PD and 4 INT in 62 games (40 starts) in Gainesville.
RB Travis Dye (5-10, 201), USC
Dye was a one-year starter for the Trojans, totaling 884 rushing yards and 9 touchdowns this past season, earning second-team All-Pac 12 honors. He began his college career at Oregon and became the fifth player in school history to reach 3,000 career rushing yards. In 58 games (33 starts) between two schools, he had a 6.0 average and totaled 3,995 yards on the ground, 30 touchdowns as well as 1,071 receiving yards and 8 receiving scores. Dye also has return experience, averaging 19.1 yards per kickoff return.
WR Xavier Gipson (5-9, 189), Stephen F. Austin
After first committing to SMU, Gipson shifted gears and jumped to Stephen F. Austin, where he had an immediate impact with the Lumberjacks. In his first season, 2019, he had 52 receptions for 934 yards (18-yard average) and 7 TDs. He was named second-team All-Southland Conference on offense and third-team notice as a returner (17 returns, 56 yards, 20.9 average). As a junior, when Austin moved to the WAC, Gipson was named first-team all-league, leading the FCS with 1,367 receiving yards, third with 14 receiving TDs and eighth with 74 receptions (18.4 per). He was named the WAC Offensive Player of the Year in 2021 and 2022, leading the team with 65 catches for 1,163 yards (17.9) and 7 TDs this past season. He also has four return scores in the last three seasons.
LB Maalik Hall (6-3, 235), Southeastern Oklahoma State
Hall spent five seasons with the Savage Storm (the 2020 season was canceled because of the coronavirus pandemic). He returned in 2021 to log 54 total tackles ((31 solo), 12 TFL and 6 sacks. As a senior he had 77 tackles (34 solo), 11 TFL and 8 sacks. He was named the Great American Conference Defensive Player of the Year and also landed the D2football.com top-100 players list.
TE E.J. Jenkins (6-6, 245), Georgia Tech
Jenkins played one season for the Yellow Jackets and had 17 catches, 316 yards and 3 scores. He played for South Carolina in 2021 (8-117-1) and St. Francis University in Loretto, PA from 2017-20. Jenkins played wide receiver for the Red Flash and set a single-season school record with 13 receiving touchdowns in 2019.
LB Caleb Johnson (6-0, 235), Miami
Johnson, not to be confused with a player of the same name for the Jacksonville Jaguars, began his collegiate career with Texas (one season in 2019), then moved to UCLA (he is a native of Murrieta, CA) before entering the transfer portal and landing with the Hurricanes for the 2022 season. Appearing in 10 games last season, Johnson had 48 total tackles (26 solo), 1.5 sacks and forced 2 fumbles.
OL Brent Laing (6-3, 304), Minnesota-Duluth
Laing was a DII first-team All-American and first-team All-NSIC in 2021 and 2022. He started 34 games at right tackle over the last three seasons and did not allow a sack in 2022. Laing considered transferring to play DI, but elected to stay and play for the Bulldogs where he was a team captain. He accepted his invitation to the East-West Shrine Bowl.
CB Derrick Langford (6-1, 205), Washington State
A two-year starter for the Cougars, Langford totaled 78 tackles, 1 sack, 4 interceptions, 6 pass defenses and 3 forced fumbles. He first played at San Francisco Community College in 2018 before transferring to Washington State. Langford's father, Derrick Sr., was drafted by MLB's Atlanta Braves in the 52nd round in the 1994 draft.
WR T.J. Luther (5-11, 189), Gardner-Webb
Luther played two years at Wofford before transferring to Gardner-Webb for his final two seasons. He had 22 receptions in 2021 for 371 yards (16.9 per catch) and 3 TDs. He broke out in 2022 with 63 catches for 1,666 yards (18.5) and 8 TDs. He also had six 100-yard games (five in a row over the first six games).
S Marquis Waters (6-1, 215), Texas Tech
Waters played four seasons at Duke and earned a degree in sociology with a minor in education before joining the Red Raiders in 2021. Injured after four games, he was redshirted and able to return for this past season. Back at full strength, he had 60 tackles (41 solo), 14 TFL and 1 sack. Was honorable mention All-Big 12 selection by the conference coaches and earned first team All-Big 12 honors by PFF. He was also named to the Academic All-Big 12 first team.