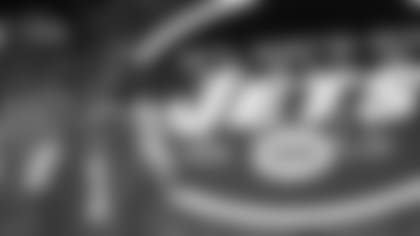 *Updated, 12:08 a.m. ET, April 29*
The Jets, with the second first-round pick of Mike Maccagnan's tenure as general manager, selected Ohio State linebacker Darron Lee from their 20th overall spot in tonight's NFL Draft.
"I'm in shock because I could not believe it and all my dreams are finally coming true," Lee told Jets reporters late this evening about how it felt to hear his name called around 9:45 p.m. "It was just a great moment for me."
Lee (6'1", 232) played the Buckeyes' walkout linebacker working the wide side of the field. Jets head coach Todd Bowles said tonight, "He's an inside linebacker. He can play the nickel right now, and he's going to grow into a three-down 'backer. ... He makes us a lot faster and you can do a lot of things with him. He's a very good pressure guy, he's a very good cover guy, and he runs sideline to sideline."
This role is fine with the newest Jet, who turns 22 in October and played quarterback and defensive back at New Albany High School in Ohio.
"I have played inside the box a pretty good amount at times. I'm working to be a better linebacker. I haven't played it that long, but I'm working to be the best linebacker I can possibly be," he said, adding that what he's bringing to the Jets is "just being a great teammate, my playmaking ability, and bringing the speed and the coverage ability."
Maccagnan said the Jets are excited about what Lee brings to the team on the field and with his off-field character. And he explained about Lee's youth:
"When you find players from an age standpoint kind of like Leo [Williams] from last year, these guys not only are good players potentially now, but being younger, as they still continue to mature and develop, we do feel they have quite a bit of upside to develop into much better players going forward."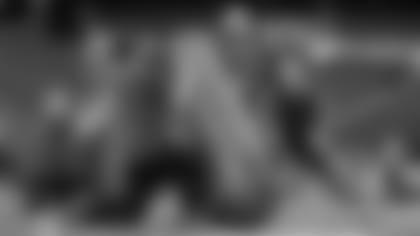 Lee was the fifth Buckeye to be taken in Round 1. He makes up for his size with loads of confidence and big-play production. He played only two seasons for the Buckeyes, but as a redshirt freshman he started all 15 games for the national champs and earned Sugar Bowl Defensive MVP for all the time he spent in 'Bama's backfield.
In 2014-15 combined he had 27.5 tackles for loss and 12.0 sacks. Then Lee wowed 'em at the NFL Combine with a 4.47-second 40, the fastest LB time at this year's workouts and tied for the fastest among all LBs in the last nine Combines. He was also a combine top performer this year in the vertical, broad jump and short shuttle.
Even though Maccagnan said last week that the Jets were "literally calling the 19 teams in front of us and the 11 teams behind us" to do their due diligence, and despite a draft rumor that they were looking to trade up, the Green & White sat tight and let Lee, one of several players they liked at 20, come to them.
Lee, who pronounces his first name "DARR-in" and who describes himself as "The Manimal" on his Twitter and Instagram accounts, is the 14th Ohio State player ever drafted by the Jets and the second high-round Buckeye taken in the last two years, after WR Devin Smith arrived as the second-rounder last year.
"I spoke with Devin a bunch of times and asked him about the whole draft process," Lee said. "We always kind of joked back and forth about being on the same team, and it's actually so cool that's it's going to come true."
And he is the sixth OSU player to come to the Jets as a first-rounder, following in the steps of RB Matt Snell (1964), T Dave Foley (1969), T Chris Ward (1978), C Nick Mangold (2006) and LB Vernon Gholston (2008).