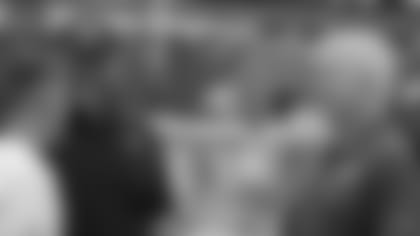 Senior Bowl week, which ends Saturday with the 71st annual all-star game, is a time for teams to get to know all the college seniors who are venturing on from Mobile, AL, toward the NFL Draft in three months. It's also a time for some teams' scouts to get to know each other a little better.
Such as the Jets. Because general manager Joe Douglas was hired in June, his college scouting group was barely assembled before they headed out into the 2019 college season.
"We had a chance to get together in December for meetings," assistant GM Rex Hogan told newyorkjets.com's Ethan Greenberg this week. "But the guys got back out on the road again for the all-star games, and obviously this is the final one of the whole circuit.
"But it's been really good. It's a chance for us to get together again with our scouts and review what we want in players and interview players here at the Senior Bowl."
Chad Alexander, the Jets' new vice president of player personnel, echoed Hogan's observation.
"We've had an opportunity as a staff to get together and spend time with each other as well," Alexander said. "We had to kind of hit the ground running when we started. But I think now is a time where it's kind of slowed down a little bit, we've put our processes in place and we can talk about what we want out of players and get to kind of stack the board."
Hogan and Alexander took different yet similar paths in joining Douglas on the current Jets. For Hogan, it's a return to the Green & White after he served as director of college scouting under previous GM Mike Maccagnan in 2015-16. Before the Jets he spent more than a decade scouting for the Bears. The past two years he was the Colts' vice president of player personnel.
Alexander, meanwhile, worked as a Baltimore scout for 20 years, part of that time with Douglas. The Ravens had named him assistant director of pro and college scouting last May before the Jets' new GM called a month later.
Both like the culture that Douglas is creating with the Jets.
"It would be really hard to find anybody in the NFL that has anything bad to say about Joe Douglas," Alexander said. "He's a great listener, he's an extremely hard worker, he's got a great football mind, and I think he does a great job of bringing it all together and collaborating with the coaching staff and the business side as well as the scouts."
"I think fans should be excited by the fact that Joe has won three Super Bowls," Hogan said, "and that he has an idea and a clear, concise concept of how to build a team and how to build a roster."
Most important for the Jets' scouts as they wrap up their work in Mobile and prepare for the next important stop, in Indianapolis for next month's NFL Combine, is that they're identifying a good number of players with Green & White traits that will be trimmed down by the time the draft is held in Las Vegas from April 23-25.
"The main priority that we're going to focus on," Hogan said, "is adding guys to our culture who are focused on a high level of commitment, a high level of character and a high level of confidence. And what that means is guys that are driven to focus on being the best they can be in terms of what they're going to provide to the Jets, whether it be on the field or off the field. And we'll identify guys' core traits that we look for. Essentially, they're going to be players that are smart, tough, physical and competitive."
"We want to bring in guys who have extremely high character and then obviously all the physical attributes," Alexander said, "guys that are big, fast and strong. You want to bring in good leaders and guys that have just the right mentality going forward and are going to help us win football games."