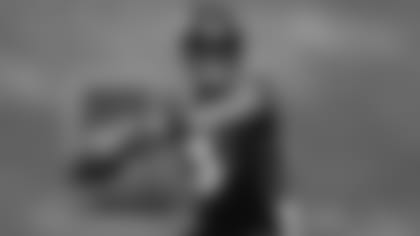 Week 7 - Oct. 23, 2022 | Jets at Broncos
Empower Field at Mile High
State of the Team
The Broncos have been wandering the Rocky Mountain wilderness the past half decade with no playoff berths and a 30-51 record. They hope to ride back into the thick of the AFC West and AFC playoff picture like they used to under John Elway and Peyton Manning with the trade acquisition of Russell Wilson.
Assisting Wilson will possibly be the 900-yards-apiece, 12-rush-TDs-combined backfield tandem of Javonte Williams and Melvin Gordon (although Gordon has to be re-signed), the WR corps led by Courtland Sutton and Tim Patrick, both re-signed during the '21 season, and a defense that was ranked eighth in the NFL overall and eighth vs. the pass, led by Pat Surtain II, last year's first-round pick, and veteran S Justin Simmons.
The Broncos had a quiet free agency period — other than grabbing Wilson, that is — and their highest draft pick was second-round LB Nik Bonitto (64th overall).
Biggest Offseason Addition
Is there any doubt that it was Russell Wilson? After completing 65% of his regular-season passes for 292 touchdowns and 87 interceptions and posting a 104-53-1 record, winning nine postseason games including a Super Bowl and being selected for nine Pro Bowls in 10 seasons, Wilson and the Seahawks agreed to part ways. The Broncos traded two first-round picks, two second-rounders, a fifth-rounder and three players (one of them last year's leading receiver, TE Noah Fant) to get Wilson plus a fourth-round pick.
What Denver hopes to have acquired is a latter-day Elway, for the victories but also for the stability at the all-important position. Consider that Wilson missed only two starts while posting nine winning records in his decade in Seattle, while the Broncos in the past seven seasons started 12 different QBs and have endured five straight losing seasons.
Wilson's feeling comfy in his new home, no doubt. He and his singer/model wife Ciara, purchased a $25 million home and have already welcomed a baby girl into their life — a female puppy. It's interesting that the couple didn't identify the breed of the dog, nor did any of the news reports seem to know what it was. But we do know the name: "Bronco."
The Jets, though, have to be ready for this matchup, which is a challenge from a few different angles. They're 0-3 career vs. Wilson, losing in 2012, '16 and most recently in '20 at Seattle by 40-3. Meanwhile, they've lost five of their last six to the Broncos and four of their last five in the Mile High City, including last year's 26-0 shutout in Week 3. And the Green & White are going to Denver in between their Week 6 matchup with Aaron Rodgers in Green Bay and the first game vs. New England, at home in Week 8.
Must-See Matchup
It would be natural to go with R.Wilson throwing to Patrick and Sutton, who combined for 10 catches and 135 yards from then-Denver QB Teddy Bridgewater vs. the Jets last year, going up against the Jets' refurbished secondary. But we'll flip that script and say the matchup to see will be Z.Wilson, as in Jets QB Zach, throwing to his new and old receivers — WRs Corey Davis, Elijah Moore and first-round rookie Garrett Wilson plus veteran TEs C.J. Uzomah and Tyler Conklin — vs. the Denver pass defense mentioned above. With all the Wilsons involved in this game, it's fair to say one team's fortunes will be spiking with a win while the other's will be cast away from the AFC playoff hunt for at least a week with a loss.
Table inside Article

| Category | Player | Total |
| --- | --- | --- |
| Passing Yards (TDs) | QB Teddy Bridgewater* | 3,052 (18) |
| Rushing Yards | RB Melvin Gordon | 918 |
| Receiving Yards | WR Courtland Sutton | 776 |
| Receiving TDs | WR Tim Patrick | 5 |
| Tackles | S Kareem Jackson | 88 |
| Sacks | DL Shelby Harris* | 6.0 |
| Interceptions | S Justin Simmons | 5 |