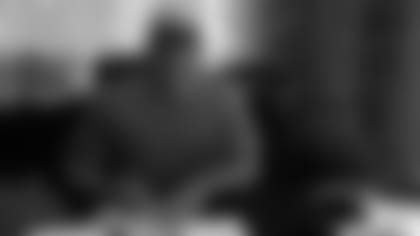 The New York Jets responded quickly to any quarterback questions that followers of the team might have when general manager Mike Tannenbaum announced tonight the Jets and QB Mark Sanchez have an agreement in principle to a long-term contract extension.
Tannenbaum and head coach Rex Ryan continued to express their confidence in Sanchez this offseason, most recently in back-to-back interviews at last month's NFL Combine in Indianapolis. And Tannenbaum repeated his belief in the Jets' three-year starter during the conference call with reporters, which began shortly after 10:30 p.m. ET.
"I'm really excited to announce we've reached an agreement in principle on a contract extension with Mark," Tannenbaum said. "Mark's a guy we identified that we wanted to sign to an extension. It started several weeks ago. Mark's our starter and we're excited about 2012. From my standpoint it's Mark and Rex going into year 4. Talking to Woody [Johnson] about it, we feel really comfortable with those two positions."
"It meant the world to me to be drafted by the New York Jets and play these past three years here," Sanchez said on the conference call around 11 p.m. after Tannenbaum concluded his remarks. "This is one of the greatest cities in the country. To have the success we had, especially the first two years, was so much fun. And to find out that I'm coming back back for three more years means so much me. I'm absolutely pleased to be a Jet."
The signing and the conference call came early in this week of decision for Peyton Manning, who was released by the Colts on Thursday and began his search for a new NFL employer with reported visits with the Broncos and Cardinals, with the Chiefs and Dolphins also in pursuit.
The Jets were thought to be Manning suitors, too, but as an ESPN blog headline today read: "Jets Not Generating Buzz in Peyton Sweeps." Apparently that's because the plan is, as Ryan and Tannenbaum have stated before, to move forward with Sanchez. Tannenbaum said the extension is a five-year deal, which includes the two coming seasons that remained on Sanchez's first contract signed in 2009.
"Part of my duties when opportunities come along are that we have to investigate it," Tannenbaum said of contacting Manning's representatives shortly after the Colts released him. "Peyton's a future Hall of Famer, a tremendous person. We looked into it and had internal discussions. But we continued to talk with Mark's representatives all the way through it and about three hours ago we found a landing spot."
"That's part of Mr. Tannenbaum's job, to look into every situation. It's something they have to do," Sanchez said. "The best part of it is they chose to stick with me. That's exciting. It gives the team the reminder that I'm the leader of this team, I'm excited to get back and I'm going to be working my tail off to get ready to go."
This was the first time Sanchez had spoken publicly with reporters since the day after the season-ending loss at Miami. This drew criticism from media and fans, especially regarding the lack of any public response to the friction between him and wide receiver Santonio Holmes.
Sanchez apologized for lying low in general but said it was to stay out of the spotlight while these negotiations were taking place. He said he'll talk more on his relationship with Holmes late next week when he's set to talk in person with reporters.
But he said he and Holmes "have been in contact really all this offseason. ... Santonio's excited about the next year, I can tell you that."
Sanchez wasn't going along with critics' observation that he's been "coddled" by the Jets, and he simultaneously threw down the gauntlet for the quarterbacks old and new that will be on the roster to press him for the starting job this offseason.
"When people say I'm coddled, I wish they could just sit in a meeting after I haven't played my best of threw a few interceptions. Coach [Matt] Cavanaugh, even Rex at times — there's nothing close to coddling going on in there. At times it's pretty rough," he said. "But teams are going to do what's best for our position, and No. 1, that was to sign me to an extension. I'm every thankful.
"And for the other guys competing for the job, they're going to have a tough time doing that."
Sanchez has started all but one game in his three seasons at the helm since the Jets traded up with the Browns to select him with the fifth overall pick of the 2009 draft out of Southern Cal. The Jets are 31-22 in those 53 starts, including a 4-2 mark in the playoffs when he led four road winning efforts that landed the Green & White in both the 2009 and '10 AFC Championship Games.
Even though Sanchez and the Jets struggled to an 8-8 record this past season, he posted career highs in attempts (543), completions (308), percentage (56.7), yards (3,474) and touchdown passes (26). He triggered the Jets' red zone offense whose 65.5 percent touchdown drive rate led the NFL and was the highest red zone percentage in at least the last three decades of Jets football.
Additionally he rushed for six TDs, the most by a Jets quarterback since the Titans' Al Dorow ran for seven TDs in 1960, the first year of the franchise's existence.
The 2012 season will be Sanchez's first under new offensive coordinator Tony Sparano after playing his first three seasons in coordinator Brian Schottenheimer's scheme.