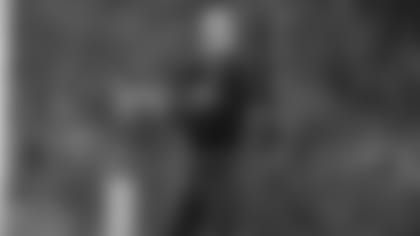 Jets quarterback Sam Darnold's status for Sunday is in jeopardy as he did not practice for the first time in his short NFL career with a strained right foot and is listed as day-to-day.
"Obviously I want to be out there with the guys, go out there and play," said Darnold, who was in a boot Wednesday. "Hopefully if I'm able to go out there and play Sunday then I will. If not, I'm just going to treat it as another learning experience. When adversity hits, it's up to me how to respond. That's all I need to worry about."
Darnold hurt his foot in Sunday's Week 9 game against the Dolphins, but the rookie signal caller is unsure when the injury took place. Head coach Todd Bowles said the No. 3 overall pick had tests run Monday and no surgery is required at this time. Bowles will monitor his quarterback's status later in the week before determining if Darnold or Josh McCown will start under center.
"Anytime you get an injury from a starter, it's a blow to the team," Bowles said. "But Josh (McCown) has been practicing and been the same guy every day. If he has to play, we are confident he can go in and play."
If McCown gets the nod, he said he'd be ready to go if called upon. In the meantime, Darnold is focused on rehabbing as much as possible to expedite his return, but said it's very important to make sure he's 100% before rejoining his teammates.
"We don't want to rush things, that's one thing we don't want to do," Darnold said. "Yeah, I'm eager to get back on the field with my guys, but at the same time, I have to take care of my body first and foremost."
Bowles said the injury doesn't affect the Green & White's game planning for the Bills Sunday and if Darnold doesn't practice Thursday or Friday, he'll continue to take mental reps as a practice bystander.
"I'm really locked in during practice and understanding what our game plan is and all that," Darnold said. "If I don't get enough reps in practice, I'm sure I can go out there in a game."