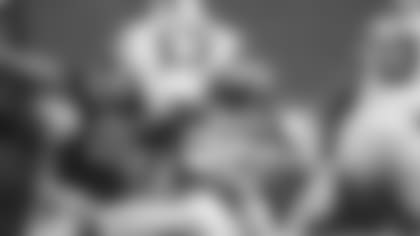 Safety Marcus Maye turned in an outstanding performance on an otherwise disappointing afternoon for the Jets in Orchard Park, NY, on Sunday.
Stepping out of the long shadow of Jamal Adams, his running mate for three years, Maye was one of the lonely bright spots in New York's 27-17 loss to the Buffalo Bills as he notched two sacks (including his first full career sack in 39 games in the NFL), forced a fumble, defended two passes and logged an impressive 10 tackles (7 solo).
With the game scoreless, Buffalo quarterback Josh Allen (33 of 46, 312 yards, 2 TDs passing; 14 rushes for 57 yards, 1 TD) had the Bills driving in the first quarter when Maye punched out the ball from Allen's grasp. The loose ball was snapped up by Bradley McDougald.
"We have to come out hot and fast, we can't, wait until things get tough to get going," a downcast Maye said after the game. "You know he's [Allen] going to run and extend plays. We just have to execute when the ball is in the air, be composed and be smart."
Maye's first career sack came on Buffalo's first possession of the second half as the Jets' defense bore down and made some plays. On the play, Maye and Brian Poole dashed off the edges to put on the pressure, and Allen never saw Maye coming.
In a more active role closer to the line of scrimmage, Maye was critical, in a self-effacing way, of his own play at times in the game.
"I missed a couple of plays I should have made," he said. "You gotta learn. I've got to continue to make plays and continue to lead the guys. With Allen, you just got to contain him. That's it. You've got to be disciplined and get him down when we get to him."
In the first half, as Buffalo built a 21-0 lead, Maye said the defense was guilty of allowing Allen to extend plays "with his legs."
"We were letting him extend plays," he said. "Other than that in the second half we came out and got off the field [after his sack of Allen]. It wasn't necessarily what they did. It was all us."
Asked it he was comfortable assuming new responsibilities as one of the leaders on defense, Maye said: "You can put me anywhere on the field and I'm going out and play hard. Being in this role is something I've been looking forward to. We're not going to change what we do."