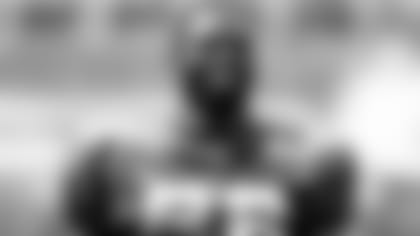 On the New Jack City calendar, it's almost Maye Day.
Jets head coach Todd Bowles said after today's practice that he'd like to see second-year safety Marcus Maye play Friday night against the Giants, saying, "If he's healthy enough, he needs to get some plays in because he's got a lot of rust to dust off."
Maye, who started all 16 games last year alongside Jamal Adams in the deep middle but suffered a serious ankle injury in the finale at New England and has been steadily working his way back ever since, couldn't agree more.
"I've been doing well in practice, just trying to move around and get back used to the speed of the game," he said about possibly making his preseason game debut against Big Blue at MetLife Stadium. "It's big because you don't want your first time out to be in the regular season. So just getting wet in a preseason game would be good."
Many coaches and teammates have remarked on Maye's reserve off the field. "Marcus is mainly a quiet guy," CB Morris Claiborne said today. Bearing that in mind, maybe you can tell how big getting to play against the Giants would be for him.
"Yeah, I'm definitely itching to get out there," he said. "Watching from the sideline, I feel like I've been out of it for a while. So getting that call to get out there will be good for me."
It would be good for the entire secondary. They began billing themselves as New Jack City last year, and as Claiborne said of the nickname, "I feel like it still hasn't made it yet, but we're pounding away at it."
It's never too soon to put the starting DBs on the field all together for the first game this summer, and since the Jets' and Eagles' starters have traditionally sat out their preseason finale, a good three quarters of work vs. the Giants could be the only preview of what's to come for the season opener at Detroit and beyond.
"It's definitely important to have that playing time," Claiborne said. "They're easing Marcus back in, which they should with the type of injury he had. But it's good to have him out there even if its walkthroughs, and he's been getting a lot of snaps recently in practice. So it's good to have him out there and let him run around."
Claiborne, Jamal Adams, Trumaine Johnson and others have expressed high expectations about the potential for the Jets' secondary. Now add Marcus Maye's voice, and perhaps his first game reps on Friday, to the mix.
"We can be as good as we want to be," Maye said. "The amount of work we put in is the amount of work we'll get out. And we've been working hard since we all got together."
"I feel this group, with this team, we can go somewhere it hasn't been in a while," Claiborne said. "It's just what we do with it. We have all the pieces. We just have to find a way to put it together and go get some wins."
Best Images from Tuesday's Preseason Practice at 1 Jets Drive