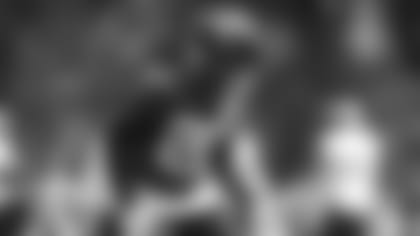 Safety Marcus Maye said he's enjoying his time in his fifth summer as a member of the New York Jets.
There's new head coach Robert Saleh, of whom Maye says: "I love him. So far so good. He's been helping me a lot, getting me used to different things because a lot of things are new. We've had our small talks on the side, he's coaching me up. I have no issues at all."
Then there's the new defensive scheme itself: "It's been great, a great scheme. I just kind of find where I belong. I'm sure the coaches will do a great job and put me in the places they need me in."
And a new probable starting teammate alongside Maye in the Jets' deep middle in veteran Lamarcus Joyner: "We're a new unit, me and Lamarcus. Communications are big right now. The faster we can get on the same page, the better we'll be. I feel like we've been doing a great job so far. He's played a lot of ball in this league."
Of course, Maye's enjoyment would be even higher now if he had signed a new contract with the Jets. But he received the team's franchise tag in March, and his representatives couldn't strike an agreement with the organization before the July 15 deadline for signing long-term deals. So Maye is playing this season under the terms of the tag.
But he also made clear that he's here at training camp to continue his streak of highly productive pro seasons, less than eight months after he was named the Curtis Martin Team MVP in a vote by his teammates late last season.
"I'm here to play football. That's what I was brought here to do," Maye said. "I've always had the same approach — go out and be the best I can be. I'm not here to prove anybody right or wrong. I'm here to prove myself right, put in the work and let my play do the talking."
Maye knows several outcomes beckon to him down the road. He said back in January he'd prefer a long-term deal and when asked Saturday if he still wants to wear the green and white long-term, his message remained the same.
"Yeah, wherever I'm welcomed," he said. "I was drafted here. I'd love to be here."
See the Best Images from Saturday's Practice at Jets Training Camp with Fans