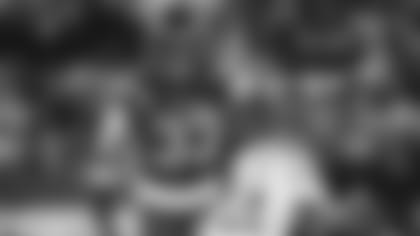 The Jets struggled early and often in their 33-0 loss to the New England Patriots Monday night, and safety Jamal Adams had zero excuses for his team.
"We didn't come to play, it's as simple as that," said the third-year pro. "To me it's embarrassing, it's not what we wanted. But we've got to go back to the drawing board, put our head down and grind."
It was a similar story for the Green and White's defense as the last time they took the field against the Patriots in Week 3. The Jets surrendered touchdowns on three consecutive possessions to open that first contest at Gillette Stadium, a 30-14 loss. And with Tom Brady throwing for 173 yards and leading the Pats to three touchdowns in the opening half Monday, the visitors breezed to a 24-0 advantage at intermission.
"We just didn't execute, we didn't come out ready to play," said Adams, who recorded five tackles and one tackle for loss. "We've got to bounce back. We have to put it behind us. The good thing about this league is we've got a game coming up soon. It's a short week, we have to get back at it. We've got Jacksonville, so we go down there and hopefully give those boys a challenge and come out victorious. But at the end of the day we have to fix this."
The defense cleaned things up in the second half, allowing just one touchdown — Sony Michel's 1-yard run in the fourth quarter. Despite Michel's three rush scores, Gregg Williams' unit, which ranks second in the league in yards allowed per rush (3.25), limited the Patriots to just 74 total rushing yards on 24 carries.
Heading into Week 7, the Patriots offense ranked eighth in total offensive yards (386.3 yards per game), ninth in first downs (22.2 per game), and third overall in average possession time (33:51). At the end of the night, the Jets defense allowed 323 yards of offense, 22 first downs and Brady's bunch held the ball for 38:27 seconds.
"It's very frustrating. I've been here for three years, but at the end of the day we have to continue to grind," said Adams. "That's all we can do, we can't worry about that."
With a 1-5 record, the Jets will look to bounce back Sunday against the Jacksonville Jaguars. Right now, the team captain has one goal, and one goal only in the front of his mind.
"I just want to win," Adams said. "I just want to win, it's simple."