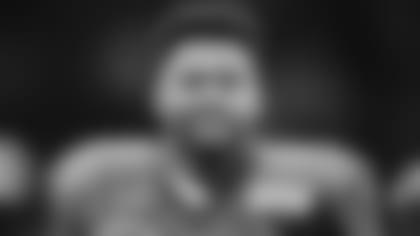 Similar to Billy Martin from those old Miller Lite commercials, Jets safety Jamal Adams feels strongly both ways. About the Jets-Giants preseason rivalry, that is.
Adams, who exudes energy at all times, got the ball rolling two days ago with his tweet that "The battle of New York is next weekend... It's LITTTT!!!!!!" And he told newyorkjets.com's Olivia Landis after Sunday's practice, "The stadium will be rocking and I'm looking forward to it."
I asked Adams off camera if his dad, former Giants RB George Adams, had a lot to do with his feeling for Green vs. Blue. Even though Jamal wasn't born until four years after George's NFL career ended, he agreed with the premise.
"I was a big Giants fans and it's just crazy how things worked out," he said. "I'm excited to play against the Giants each and every time I get the opportunity. I have a lot of friends on that side of town. It's going to be a fun matchup."
But the second-year man who played in his first Jets-Giants preseason game a year ago, also knows that a win Friday night — even though it may be the 50th annual summer bash between the long-time stadium mates — doesn't earn the Jets anything except Weeb Ewbank's ephemeral braggin' rights.
"It's another game," Adams said. "I look at it like that each and every week. It's another opportunity to go out there and do what we do best, do what we love to do."
The Green & White defense has had some highs and lows this preseason. They pitched an impressive home shutout against the Falcons in the opener. On the road in Game 2, the Redskins racked up yards and big plays (four 20-yard completions, two 30-yard runs) on the FedExField pitch, but one thing all the Jets' defensive units did was to hold the 'Skins to all field goals with four inside-the-20 stops, which Adams felt was significant.
"I mean, that's huge," he said. "Even though they were moving the ball, that shows that we're bowing up when the going gets tough and adversity hits and we're locking in and we're getting off the field."
What can the Jets' first defense, in its longest exposure of the preseason, do against the Giants to tell Adams that they're on the pace they want to be for the start of the regular season?
"It's not about the Giants, it's about us," he said. "We're not out there to show anybody or prove anything. We just want to be consistent in our job, as a group. So long as the Jets come out there and play fundamentally sound, look at the right things as far as our eye keys, and just be disciplined and not have penalties, we'll be fine."
But after looking inward, Jamal left us with one more nod toward the Battle of New York:
"It's about this Jets organization ... but it's definitely going to be a damn sure good matchup."