It used to be a big deal when a team set a record for fewest rushing yards allowed in a game. It hearkened back to the hardscrabble, cloud-of-dust days of the sport. No longer, now that the passing game is king in the NFL.
But coaches and players alike still tout the importance of the run game, and run defense, in winning football. Unless they're kidding us all, it does matter that the Jets, whatever the reasons, held the Dolphins to a franchise-record 12 rushing yards in their 38-20 win Sunday.
"Twelve yards says we were able to stop the run and we were effective as a defense," LB Demario Davis said. "That's a big thing for us every week, to be able to stop the run. We were able to do it, and the scoreboard kind of showed it, too."
In honor of days gone by and big games ahead, here are eight things to know about the Green & White's defensive rushing record:
The Jets set a high bar in this record entry early on, holding the Raiders to 17 yards on 17 carries at Shea Stadium in a 35-13 Saturday night win in 1964. Twenty-two-years later, another era of defense limited the Patriots to 17 yards on 10 carries in a 31-24 conquest at old Sullivan Stadium in 1986. The record wasn't threatened for another 29 years.
The Jets actually set the record again earlier this year in the 30-23 loss at New England, when Bill Belichick, Tom Brady and the Patriots decided to run only nine times and gained 16 yards. Meanwhile, Brady threw 54 times, completing 34 for 355 yards. (Very close to Ryan Tannehill's 33-for-58 for 351 Sunday).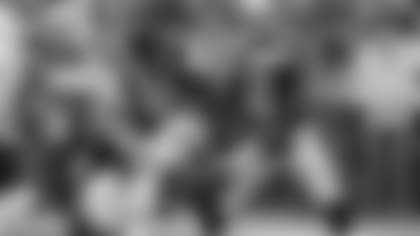 The nine carries by the Patriots and Dolphins this year established the franchise record for fewest attempts in a game by an opponent. And Miami's 1.33 yards per carry is the third-lowest in a game against the Jets, topped by the 1.00 by the Raiders in that '64 game and a 1.27 the next year at the Boston Patriots.
The Jets also tied a franchise and NFL record by allowing no rushing first downs by the Dolphins. a goose egg allowed by the Jets only four times before, most recently vs. Indianapolis in 2012. Even the Pats this year had three rush first downs, two on Brady keepers.
Sunday's game matched a distinction held by only one other Jets defense, in that 2012 Colts game. For the second time in franchise history, opponents did not execute a running play longer than 5 yards. The Dolphins' long run Sunday was a 5-yarder by rookie Jay Ajayi on third-and-25 late in the opening period.
The Jets also don't like to yield rushing touchdowns — it's one of the tenets of Todd Bowles' defense. For the ninth game this season, they held an opponent without a rush TD. The franchise record is 10 games, achieved several times, most recently in 2008.
A number of the men who played in the games mentioned in this piece were in attendance at MetLife Sunday, for the confluence of the Jets' Ring of Honor, Super Bowl III and Homecoming observances. This fact wasn't lost on one of the players who helped make Sunday's record possible. "That's definitely an honor to be a part of this defense in our stadium today that set that record," S Calvin Pryor said. "And hopefully more great things are to come."
8. Blueprint for the Future?
No doubt the Dolphins' "cooperation" was needed in setting this mark, as was the Patriots' five weeks ago. But their why-bother approach could mean this record might just be lowered again in coming weeks. Such as perhaps by the Giants this Sunday? They have Eli Manning throwing to sure targets such as Odell Beckham, Rueben Randle and Shane Vereen. They also have a rushing offense that is 28th in yards/game and 27th in yards/carry.