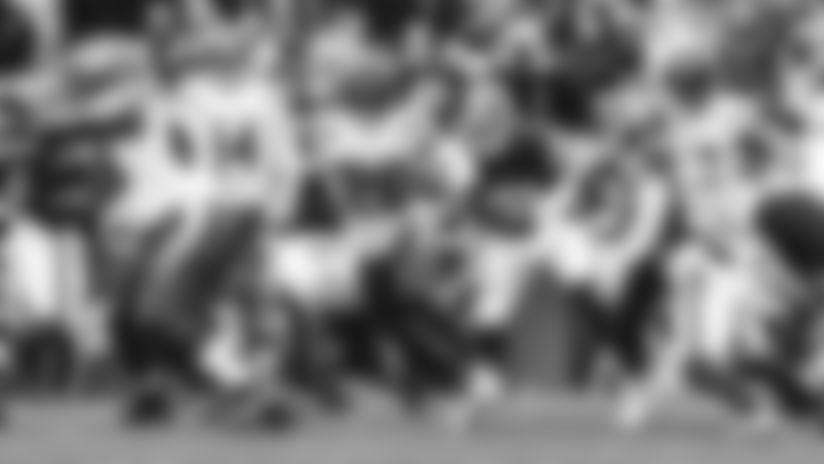 For the fourth consecutive week, the Jets offense got off to a speedy start and scored on their opening drive in a 34-17 victory against the Washington Redskins. One notable difference in the team's first road win though was the re-emergence of the run game.
"We didn't have the penalties that we've had before where we were second-and-six or less, which helps us run it," said head coach Adam Gase on the ground success. "I think the guys did a good job of staying ahead of the sticks."
Making the most out of the Green and White's hot start, Gase utilized the talent out of the backfield and incorporated more bodies than usual in the rush offense, with four different running backs getting touches in Sunday's contest: Le'Veon Bell, Bilal Powell, Ty Montgomery and Josh Adams. Leading the pack was the 27-year-old Bell, who recorded 18 carries for 59 yards and 1 TD, averaging 3.3 yards per carry.
"Guys were getting on the blocks, sustaining blocks and knew who they were blocking. I just have to do a better job of falling forward and continue to do my thing," Bell said. "We're continuing to move up and I feel like we're getting better."
Heading into the matchup, the Redskins defense ranked 28th in the league in rushing yards allowed per game (136) and 16th in rushing yards allowed per play (4.22), presenting an opportunity that the Jets pounced on. Bell and company rushed for a combined 78 yards in the first half — the most in any half for the Jets this season — and finished the game with 115 yards on the ground, which was their most rushing yards this year.
Powell – the ninth-year veteran and longest-tenured Jet— got into the mix early, rushing for a season-high 42 yards on seven attempts, with an impressive 17-yard scamper up the left side of the field that set up K Sam Ficken's 30-yard FG in the second quarter.
"That's what BP does. He's been in this game for a really long time and he can read holes really well," Bell said about the 31-year-old back. "I'm sure he wishes he didn't tackle himself (laughing) but he had a great drive and a great game. He's a veteran guy and I wouldn't expect anything else from him."
The Green & White capped off the win with 400 total yards of offense and accumulated 23 first downs — six of which came by rushing. After making ground gains in Washington, the Jets will transition to preparation for the Raiders, whose defense ranks 17th in rushing yards allowed per game (105.9) and tied for 16th in rushing yards allowed per play (4.25).
"It felt good because we're tired of the dramatics," said Bell. "We were able to go in here today, start off fast, get a quick lead and sustain that lead over the quarters of the game and run the ball well and efficiently. It was good today."