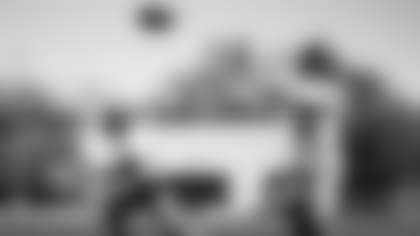 Defensive Line (12)
Leonard Williams, Steve McLendon, Henry Anderson, Nathan Shepherd, Folorunso Fatukasi, Bronson Kaufusi, Quinnen Williams (R), Fredrick Jones (R), Trevon Sanders (R), MyQuon Stout (R), Justin Alexandre (R), Kyle Phillips (R)
Spring Synposis
At the NFL Combine, Adam Gase explained that staying with the 3-4 front that the Jets have called their base pretty much since 2006 made sense: "We're trying to keep as many of the players that are currently here that understand that solid defense is key for us to where now we're not completely starting over. We can keep a lot of guys we already have."
Along those lines, Leonard Williams returns for his fifth Jets season while Anderson (off his career year after coming over in trade from the Colts) and McLendon (the venerable 10th-year man and two-time Dennis Byrd "Most Inspirational" award winner) were both re-signed. Also, Shepherd and "Foley" Fatukasi both returned for their sophomore Jets seasons. Only Mike Pennel, who signed with New England, is gone.
The biggest change: the selection of Alabama DL Quinnen Williams, considered by many draft analysts to be the best available athlete in this year's draft, with the third overall pick.
Biggest Question(s)
We'll pose two here: Is Q.Williams just what the doctor ordered for L.Williams, who fought through different issues in 2017-18 after reaching his '16 heights as Curtis Martin Team MVP and Pro Bowl participant in his second season? And can Shepherd and Fatukasi become factors in the DL rotation in '19? Shepherd got valuable playing time but overall had an understated rookie season as the third-round pick from Canada via Division II Fort Hays State while Fatukasi out of UConn played only three snaps all year.
Linebackers (14)
C.J. Mosley, Avery Williamson, Darron Lee, Jordan Jenkins, Brandon Copeland, Neville Hewitt, Frankie Luvu, Tarell Basham, Harvey Langi, Anthony Wint, Jachai Polite (R), Blake Cashman (R), Jamey Mosley (R), Jeff Allison (R)
Spring Synposis
Mosley is a familiar name, but not as a Jet — he made 77 starts and played in four Pro Bowls as a Raven from 2014-18. His presence on and off the field is expected to have a lot to do with changes in the Green & White's defensive and team culture.
Lots more familiar names abound in Williamson, Lee, Jenkins and Copeland — who made 49 of the 55 LB starts last season — plus returnees Hewitt, Luvu, Basham, Wint and Langi, who spent 12 weeks on the practice squad and/or IR. But the big name on and off the field is C.J. Mosley
As for rookies, Polite will try to play much ruder than his surname in trying to approach his 11 sacks and six forced fumbles in 13 games with Florida last season, while Cashman is a tackling machine from Minnesota who initially seems ready-made for Brant Boyer's kick-coverage units.
Biggest Question(s)
What about Darron? Lee did not depart before or during the draft in trade as some pundits predicted, but Mosley's arrival still appears to bump him out of his role as the former first-round pick out of Ohio State who made 36 starts at ILB in his three Jets seasons. But he's still a Jet, and as has been opined since the draft, DC Gregg Williams will find a role in his scheme to utilize Lee's skills after his improved '18, especially in pass coverage, if he's on the opening-day roster.
And can Jamey Mosley, C.J.'s kid brother who also went to Alabama, show his skills on special teams and at backup LB to earn an opening-day roster spot and form the Jets' first regular-season brother act since Aaron and Jason Glenn played together in 2001?
Cornerbacks (9)
Trumaine Johnson, Darryl Roberts (CB/S), Brian Poole, Parry Nickerson, Derrick Jones, Jeremy Clark, Arthur Maulet, Bless Austin (R), Kyron Brown (R)
Spring Synposis
The Jets corner has had some comings, goings and stayings. Sticking around: Johnson will start his second season as a Jet and his fourth with Gregg Williams as his coordinator (the first three with the Rams). He said during OTAs of his goals: "Pro Bowl, of course. And I've always been a team guy, so I'd love to win here." Roberts re-signed and Nickerson, Jones and Clark also return. Also significant, DBs coach Dennard Wilson returns.
One departure, at least at the moment, is Morris Claiborne, who started 30 games the previous two seasons, had a career year in '18, then became an unrestricted free agent and has yet to sign with any team. Another familiar face gone is Buster Skrine, a Jets starter/nickel for four seasons who signed with Chicago. And Rashard Robinson was waived last week.
And the one major arrival is Poole after three seasons with Atlanta. Poole moves into Skrine's role and the two have some similarities. Both are around 5'10" and have comparable stat profiles. But Poole is thicker (211 pounds to 185), averages fewer penalties committed per season, and had more sacks (3.0) and as many QB hits (5) last season alone as Skrine did in his last three seasons combined (2.5 sacks, 5 QB hits from 2016-18).
Biggest Question
Who will start at RCB opposite Johnson at LCB? It has been Claiborne and could be again as the veteran corner is rehabbing an injury and remains a free agent. It could also be Roberts, who started four games when Johnson was out with his quad issue. And Nickerson last year made two starts and will be making his case for a more prominent role.
Safeties (8)
Jamal Adams, Marcus Maye, Rontez Miles, Doug Middleton, Brandon Bryant, Tevaughn Campbell (S/CB), John Battle (R), Santos Ramirez (R)
Spring Synposis
The names are familiar in the deep middle of the Jets' defense, but the only player to hold forth the entire year was Adams, who became only the second Jets safety to be named an All-Star and team MVP in the same season since Dainard Paulson in 1964. Adams, who showed up in coverage, on blitzes, against the run and on third/fourth downs, said his goal for the coming season is simple: "Just getting better at everything, man."
Middleton played only the first half of the season and Miles the second half due to injuries and Maye also wound up on IR. But there is experience here and that includes Darryl Roberts, who's listed at CB but became the first Jet to start at least five games at CB and five at safety in the same season since Johnny Lynn in 1985 and re-signed in March.
Biggest Question
Adams makes no bones about what having Maye on the field for OTAs means to him: "If I don't have him back there, it's like I'm missing an arm or something, man." But the Jets' first two picks of the 2017 draft, after teaming up for 16 starts and more than 1,000 plays as rookies, made only six starts and fewer than 400 snaps together due to Maye's multiple injurie issues. Can they regain and surpass their dynamic duo form of '17?