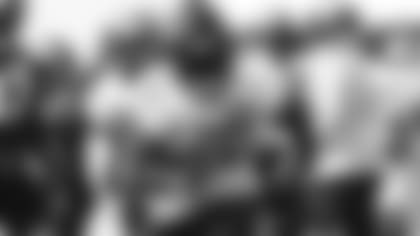 Jets rookie running back Michael Carter said that he likes to study. The playbook. Film. Lots of film.
"I study like crazy," he said after Wednesday's practice at the Atlantic Health Jets Training Center. "This is what college should have been like! Now I get to major in football. It's my lifestyle, my everyday job."
For the Green & White's fourth-round draft pick (No. 107 overall) out of North Carolina, it's a job, an adventure and an opportunity. With legs powered by prodigious quads and a slashing running style, Carter (5-8, 201) appears to be destined to be an important member of the Jets' running-back-by-committee approach under OC Mike LaFleur.
"Not having the same [back on every play] is key,'' LaFleur said. "The defense gets used to hitting someone and all of sudden the tempo changes. It keeps the defense honest."
Carter's introduction to the scheme began in earnest when running backs coach Taylor Embree gave the RBs tapes of the offense played by Denver and Washington run by Coach Mike Shanahan and clips of the offense run by Kyle Shanahan in Atlanta and San Francisco.
"When I got here I had to learn the history of offense," Carter said. "It started with the Broncos, then Washington, and the 49ers all had success with it and now, for us, we look forward to wearing teams down. Like [Jets HC Robert] Saleh said, everything starts up front, no matter what we do in the backfield. It starts with those guys."
The Jets currently have six running backs on the roster, none with more experience than Tevin Coleman, especially in LaFleur's offense. He has rushed for 2,937 yards and 24 TDs in his six-year career. Otherwise, the options are second-year man La'Mical Perine; Ty Johnson, who rambled for 254 yards in the 2020 season; Josh Adams, who had a 5.4 yards a carry average last season; and Austin Walter, who was with the 49ers last season.
"It's an unknown group in that people look at the names and assume there's not much there,'' Saleh said after practice Wednesday. "They all have a dynamic trait to them that can be pretty good in the system and the way the zone scheme works. We're excited about this group.''
After starting as a freshman in high school and in college, Carter said that he has seldom had a mentor, or as he put it "a big bro," to offer advice and counsel as he navigated his way up the football food chain.
"I never had a big bro that way, and Tev understands this league, he understands where I'm at right now where I'm coming from," Carter said. "Sometimes you don't want to ask a coach a question, so I ask Tev because he's been in the game, he's been in my shoes, he's been in two Super Bowls. That's a lot of experience, so I pick his brain."
Carter is part of an impressive rookie class, which has shown promise, enthusiasm and a competitive spirit, with still a month to go before the start of the regular season, at Carolina on Sept. 12. He said that the rookies, the Group of Seven, have big dreams.
"We talk," he said. "It's more about aspirations. As young players, the class they brought in has talent, it's a very talented group. We have supreme confidence, we never have a bad day if we're learning. We all want to be great at something and it's something we have in common."
Perhaps the rookie with the most eyes on him is QB Zach Wilson, the guy Carter hopes to be taking his share of handoffs from.
"He's got a superior arm, a great talent, a humble being regardless of what everyone says," Carter said. "He tunes it out. The life of a quarterback is that they love him one week, hate him the next. One thing is he loves football. We got a quarterback. It's all good. Zach is an elite player and when he gets on the field he's a game changer."
With the Green & White scrimmage Saturday night at MetLife Stadium and the team's first preseason game on Aug. 14, Carter said that he's trying to keep it all in perspective.
"I don't want to get ahead of myself, haven't played in any games, even a scrimmage," he said. "As far as my confidence, I feel good. I've been playing contact football all my life. My whole life is football. It's been there for me when nothing else was. It's been the story of my life."
The next chapter is waiting to be written.