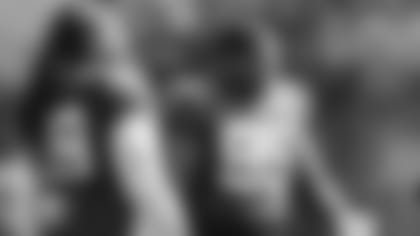 The Jets defensive line continues to slowly, surely make strides. The front three is solid with Leonard Williams, Steve McLendon and Henry Anderson. Bronson Kaufusi has mixed into the rotation and Folorunso Fatukasi has gotten his pro career moving the last two games. At New England, free agent rookie Kyle Phillips flashed with 47 snaps and 1.5 tackles for loss.
"I'm eager. It's cool," said Quinnen Williams. "I can't wait to get out there and dominate."
Williams' domination was put in hibernation by the ankle sprain he suffered in the opener against Buffalo that kept him sidelined the last two games. But the first-round rookie, taken third overall in the April draft out of Alabama, has been practicing this week and seems ready to rock again.
"I'm getting back to 100 percent, learning everything, getting back faster and stronger, making sure I get my body back right and healed," Williams said in his rapid-fire delivery. "It was a great bye week. Me and the training staff had a long bye week with each other. We said, 'Come early, stay late' to make sure I get back to 100 percent.
"I was conditioning hard and just got myself back to the plate."
Q's friendly demeanor no doubt hides some churning emotions just below the surface. He clearly wants to do well and earn his way at the pro level, but his pro debut vs. the Bills (23 defensive snaps, no stat line to speak of) was unsatisfying. He talks of "domination" and such not because he's a braggart but in some combination of Crimson Tide-speak and of him pumping himself up for the task ahead.
Sunday, that task is trying to find the cracks in the Eagles' impressive OL.
"They've definitely got a great offensive line. They have leaders like [center] Jason Kelce, and you see a lot of good things that they do," he said before shifting gears. "But we've got a lot of great guys on defense, man, so every time we come together and play together and everybody communicates and is on the same page, I feel like we're the best defense in the country. So we've just got to go out there and execute and do the things we do well."
The Jets may not be the best DL statistically but they're doing some things well (read Inside the Numbers on newyorkjets.com on Saturday morning). And Williams doesn't have to be All-Pro right off the bat, just find his spot back in the rotation and get that career moving onward and upward again.
One thing's for sure: Quinnen's optimism is unquenchable.
"I feel great, man," he said. "I'm rolling."
See Top Photos from the Practice Field Leading Up to the Road Game in Philadelphia