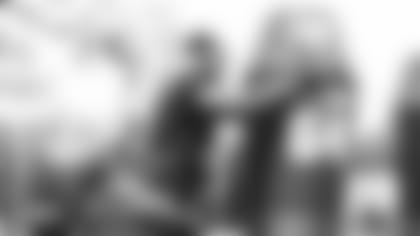 Jets third- and sixth-round picks Nathan Shepherd and Folorunso Fatukasi share more than a position. They share a mindset.
"Right now I'm an intern in the Jets organization," Shepherd said. "I have several weeks ahead of me and it's going to be intense. I just had to put that mindset into myself and everyone else that I'm here to earn this job."
The defensive linemen roomed together during last week's rookie minicamp and after practice, they'd quickly call their families before diving into the playbook. They created offensive line fronts with the hotel room chairs to make sure they understood what the coaches were expecting from them come practice.
"It's great because let's say I pick up 60% and that other 40% is in my notes, he'll have it in his notes or right on deck," Shepherd said. "We'll go through plays and each one of us is filling each other in on something we might've overlooked."
The two were so focused in their studies that Fatukasi, who's an NBA (and Knicks) fan, didn't watch a single minute of the playoffs during their stay in Florham Park.
"The other day, I said we had to breathe and turn on the TV to take a couple minutes. He (Shepherd) asked where the remote was and I had no idea," Fatukasi said. "We didn't know where it was because once we come back in the room every night, we're into the playbook. We just try our hardest to understand what the coaches are teaching us or expecting us to do. We're in the playbook and knocked out by 10."
Shepherd and Fatukasi clicked immediately, but their relationship dates further back than last week's rookie minicamp.
"We had actually connected at the Combine and on social media, so we'd been messaging each other back and forth since," Shepherd said. "Come the draft, he congratulated me and things like that. Before I know it, I'm scrolling on Twitter and Fatukasi is going to the Jets. I go and message him like 'This is great.'"
"To be honest, I did not see that coming," Fatukasi said. "One thing I really picked up about him is that he's a real genuine and true guy. That's one thing I like to surround myself around with, good people. I really like his attitude and his energy. His overall persona is really good."
Shepherd and Fatukasi, who weigh a combined 633 pounds, are excited to get the ball rolling and meet their veteran teammates come OTAs. Fatukasi, a UConn product, said he had to quickly get off the high of being drafted because there's work to be done. Similarly, Shepherd, who took a winding road to the NFL, said his only reflection time comes with the media, but he has small surreal reminders like when the Jets tag him in their Twitter posts.
"Right now, I'm just trying to learn as much as I can and soak up everything I can," he said. "I imagine it'll be a lot different once the veterans are here. I'm looking forward to that. I'm staying in the moment and going through our installs."
"First and foremost, I just want to show the coaches that I can learn," Fatukasi said. "You teach me something, you break it down to me and I can learn it. I just want to let them know and show them I can get better every time I do something. Most importantly, build a connection with my new teammates."