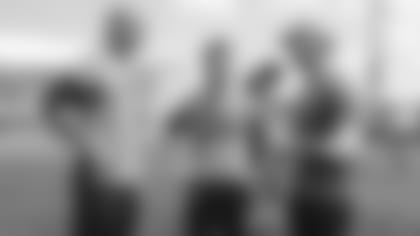 Robert Saleh is still new to the NFL head-coaching game, but the Jets boss already knows a little bit about how the league rolls. Which is why he's happy to have his and the Green & White's first joint training camp practices this week with the Green Bay Packers.
"There's always that paranoia that your practice tape is going to get out there," Saleh said before Wednesday's practice. "I think our staffs can trust one another. All coordinators have pretty deep relationships, we've got relationships with the position coaches. There's a trust that what happens in this practice will stay in this practice."
One reason for that trust is the relationship between Saleh and Matt LaFleur, Green Bay's third-year head coach. This chapter in the Saleh saga has been developing for a while now, how the two were grad assistants together at Central Michigan and were groomsmen in each other's weddings.
They even fire friendly shots across each other's bow, as recently as the days leading up to these practices. As Matt said about Jets first-round rookie QB Zach Wilson, "Certainly he has a lot of talent. ... He's got to make sure he gets the proper coaching up there. That's the one thing I question."
That, of course, could be a double shot, at Saleh as well as at Matt's kid brother Mike, who's the Jets' first-year offensive coordinator and worked alongside Saleh, then the defensive coordinator, for four years with the 49ers.
All in the family indeed.
"I'm really excited for Matt," Saleh said before Thursday's practice kicked off. "Obviously, I mess with him all the time. I know I'm older and I've technically been in the league longer. But he's the one that's 26-6, not me.
"I think it's pretty surreal, especially when his mom and dad came out on the field and his kids, and just remembering when we were raiding the refrigerator and all that stuff. It seems like yesterday."
This week, it's not about yesterday but about today and tomorrow. Saleh and the LaFleurs and the Jets and the Packers aren't these two practices and preseason game like Happy Days.
"The biggest thing we're trying to accomplish through this preseason is to make sure we're game-ready, four quarters of game-ready, by the time Week 1 comes around," Saleh said. "Having today's practice and trying to evolve to that is all part of the process."
But the Jets coach admits he'll steal a few pointers from his old roommate and great friend if he can.
"There's always a lot to learn off of Matt. He's extremely detailed," Saleh said. "You can see all of that on display, especially just talking to him, going through this and collaborating, just how detailed and precise he is with exactly what he wants, just having conversations with him on a daily basis. There's a reason he's in this job and there's a reason why his team's having success. And he has a lot to do with that."
See the Top Photos from Green Bay During the Final Joint Practice with the Packers