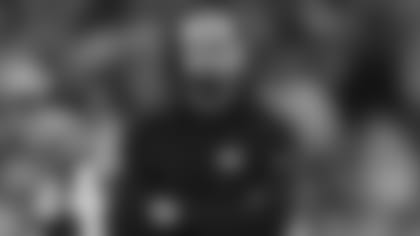 On the day after the Jets' deflating 27-6 loss to the Los Angeles Chargers on "Monday Night Football," HC Robert Saleh said that the players, the coaches ... the offense, the defense and special teams shared the sting from the team's first loss in four games.
"There were a lot of good things, a lot of inconsistency, penalties, dropped balls," Saleh told reporters on Tuesday. "Just sloppy." He added: "There was enough blame to go around."
The Jets failed to score a touchdown and found themselves quickly trailing, 14-0, after yielding a punt return for a score and a Zach Wilson fumble that led to the Chargers' first offensive TD of the night.
Right off the bat, "first drive obviously, three and out," Saleh said. "We missed a couple opportunities to move the ball in the first drive. Second drive, obviously they had the punt return for a touchdown, but I felt that second drive was going really well. It would've been like second-and-2 at the 35-yard line going in [actually, it was first-and-10 at the LAC 44]. Obviously, we [Garrett Wilson]fumbled. Defense held well.
"Offense comes back and the next drive we get it to midfield, with manageable third-and-3. I felt like we should've converted. Missed the opportunity, that was the [Zach Wilson] fumble, which was the second fumble of the half, which led to their first points on offense. So, that kind of puts us behind the eight ball and as you watch the game, as you go through it, a lot of good things, but a lot of inconsistency. Especially from an execution standpoint in penalties [8 for 40 yards], drop balls. It was just sloppy and then obviously, you always look at it inward from a coaching staff standpoint and what we could've done better to put our guys in a better position. Schematically, I'll obviously keep that one in-house, but there's enough blame to go around to everybody."
With QB Zach Wilson playing again playing behind a fluid lineup on the offensive line, the Chargers notched 8 sacks and pressured Wilson (33 of 49, 263) much of the night. The struggles, Saleh maintains, spreads throughout the offense and the onus does not fall on one individual.
Speaking about Wilson's play, Saleh said: "There's some good, some bad that he can build off of. Some things he still needs to get rid of whether it's understanding when enough is enough. Understanding what defenses are giving you and just being a little bit quicker and saying no to things, if you will. I thought overall he was distributing the ball and as I said, we were moving it at the time. Always presence in the pocket for every quarterback in football can always be a little bit better, but like I said, he could be a lot better. It's lazy to just put it all on him. I think like I said, it was a very, it was collective all the way across the board.
"It'd be one thing if it was just him, right? It is the easy thing to do. He's the most, him and the play-caller are the two most visible things. So, when things aren't good, it's easy to blame them, right? It's easy to blame the people who are most visible to the camera."
The Jets' defense, after strong performances against Josh Allen, Pat Mahomes, Russell Wilson and Jalen Hurts, again clamped down on an elite NFL QB, holding Justin Herbert to 16-of-30 passing for a subpar 136 yards and no touchdowns.
"That was a damn good offense that I felt like we were able to keep in check," Saleh said. "It was unfortunate, I felt like there were about five turnover-worthy plays that we could have taken advantage of and not one bounce went our way, usually you get two of them, but we weren't able to get any. I am really excited about how the defense is playing, as I said, it is at a championship level."
And finally, there is that word that's unfamiliar to some -- fortnight, meaning two weeks -- that was thrust into the media slipstream on Tuesday when QB Aaron Rodgers sat for his weekly spot on "The Pat McAfee Show." Rodgers described his rehab process as happening in periods of fortnights. Saleh said he loves it.
"The one thing I will say is he is working relentlessly to try to get back here and he's awesome, man. Like I've said a million times, he doesn't have to, but he wants to," Saleh said. "I think it's a testament to his relationship with the locker room and how much those guys appreciate him and how much he appreciates his teammates. So I'm not going to say anything that he's told me, but I do know he's working really hard to get back here."