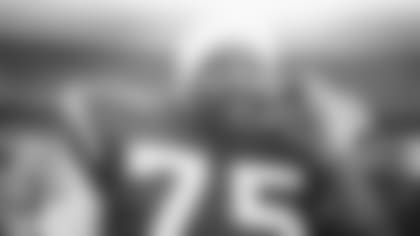 February is Black History Month, and the New York Jets are celebrating some of their greatest contributors from their first six decades plus of existence. Here are some but by no means all Black players and coaches who have made their marks on franchise history and in NFL annals.
Player to Receive the Most Pro Bowl/All-Star Recognition in His Jets Career
Winston Hill had an illustrious career as a Jets starting tackle, crowned by his being posthumously enshrined in the Pro Football Hall of Fame in 2020. But that honor was built on the foundation of Hill's year-by-year awards of excellence. Coming to the Jets from the historically black Texas Southern University (and after a summer stop with the Baltimore Colts), Hill got some starts as an AFL rookie in 1963. Then in 1964 he took over as the Jets' left tackle and didn't leave the starting lineup until late in 1976. In that span Hill was named to play in four AFL All-Star Games and, from 1970, in four NFL Pro Bowls. His eight all-star appearances are the most by any member of the Jets.
Running Back with the Best Nose for the End Zone
Emerson Boozer came to town in 1966 from the HBCU of Maryland-Eastern Shore and immediately teamed with Matt Snell to become the greatest 1-2 backfield punch in club history. Snell, running behind Boozer's block on "19 Straight," scored the only TD the Jets needed in Super Bowl III. But Boozer was a ball-toting force in his own right. His 5,135 rushing yards held the franchise career record for 11 seasons, and he was unstoppable when the end zone rose up to meet him — Boozer's 64 scrimmage TDs are twice as many among RBs as the Nos. 2 and 3 scorers (Snell and John Riggins), and his 57 red zone TDs were the Jets standard until Curtis Martin eclipsed that in his last season in 2005.
First Black Head Coach of the Jets
Herman Edwards was the player who returned the fumble that won "The Miracle of the Meadowlands" for the Eagles over the Giants in 1978 and then a coaching disciple of Tony Dungy with the Tampa Bay Buccaneers from 1996-2000. He became the first Black head coach of the Jets early in the 2001 offseason. As HC, "Coach Herm" guided three of his five Jets teams to winning records and into the playoffs — the most postseason appearances of any Jets HC — and his 2002 team was the last Green & White team to win an AFC East division title.
Only Jet to Have an Island Named After Him
Big things were expected of cornerback Darrelle Revis, the Jets' first-round draft choice (14th overall) out of Pittsburgh in the 2007 NFL Draft, but Revis went above and beyond. In his first stint with the Green & White, he compiled 19 interceptions and 3 touchdown returns and was named to four Pro Bowls and an All-NFL first-teamer three times. After two seasons away, Revis returned to the Jets n 2015 to grab 9 takeaways (5 INTs, 4 fumble recoveries) and earn his seventh Pro Bowl berth and his fifth as a Jet. His coverage skills were so legendary that he was placed in charge of shutting down the game's top wideouts one-on-one and became known as Revis Island, a place where opposing WRs visited and weren't heard from for the rest of that game.
First Black Player to Win the Jets MVP Award
Snell was the Jets' third overall pick in the 1964 American Football League Draft out of Ohio State and immediately made an impact as a rookie with 948 rushing yards, second-most in the AFL that season behind only Buffalo's Cookie Gilchrist at 981 yards and still the Jets franchise record for rushing yards in a season by a rookie. Snell was honored that postseason as one of three Black players on the Jets and the first Black rookie to earn a berth in the AFL All-Star Game. The next year, Snell ran for 763 yards, caught 38 passes for 264 yards and gained 1,027 yards from scrimmage. His continued impact on the Jets' running game and offense earned him the Jets' Team MVP Award after the '65 season by a vote of his teammates.
Only Player to Have the Jets Team MVP Award Named After Him
Tailback Curtis Martin gained much yardage and many accolades during and after his eight-year Jets career from 1998-2005. Martin was in the six-member inaugural class of the New York Jets Ring of Honor in 2010, and he was the first player who spent most of his career with the Jets to be inducted into the Pro Football Hall of Fame in 2012. Among his greatest distinctions was his four seasons as the Team MVP, awarded to him at the end of the 1999, 2000, 2001 and 2004 seasons. He is the only Jet to win the Team MVP four times, prompting team CEO Woody Johnson to name the award after him on Nov. 18, 2007.
First Black QB to Start a Game for the Jets
J.J. Jones came to the Jets out of Fisk University, the private historically Black university in Nashville, to back up Joe Namath at QB in the 1975 season. Jones played in 7 games for the Jets that season at QB and on Monday night, Dec. 15, 1975, in Game 13 at San Diego, he became the first Black QB to start a game for the Jets. Interim HC Ken Shipp, who took over the coaching reins from Charley Winner for the last five games of the season, benched Namath for the opening quarter for missing the team's Sunday night curfew the night before. Jones started and played in three series, producing a field goal, before Namath came in with 9:31 to play in the second quarter and stayed in the lineup the rest of the game.
First Black QB to Start and Win a Game for the Jets
Ray Lucas joined the Jets in 1998. In '99, with Vinny Testaverde sidelined for most of the season with a torn Achilles' tendon and Rick Mirer ineffective, HC Bill Parcells turned to Lucas at QB. Lucas' first start was Game 6 vs. Indianapolis and Peyton Manning, a 16-13 home loss during which Lucas was injured. Lucas returned to the starting role for Game 9, a Monday nighter on Nov. 15, 1999, against the Patriots at Foxboro Stadium. On the strength of a three-TD-drive second quarter, Lucas and the Jets outdueled Drew Bledsoe and the Pats in primetime, 24-17. Lucas went 6-3 in 9 starts that season, including a pair of wins over Dan Marino and the Dolphins in a three-week span late in the season.
First Black QB to Start a Season Opener for the Jets
Geno Smith was the Green & White's second-round selection, 39th overall, in the 2013 NFL Draft. He dueled Mark Sanchez for the starting job in the preseason and when Sanchez was injured in the third PS game vs. the Giants, Smith got the starting nod. Smith and the Jets defeated Josh Freeman and Tampa Bay 18-17 at MetLife Stadium on opening day, Sept. 8, 2013. Smith went on to lead the offense and the club to an 8-8 record in his 16 rookie-season starts, including victories over Matt Ryan and the Falcons at Atlanta and at home over Tom Brady and the Patriots and Drew Brees and the Saints.
The Jets Running Back with the Most Chunk Plays
Before some of the Jets' running back greats did things, Freeman McNeil did them first. McNeil, the Jets' third overall pick in the 1981 draft out of UCLA, was the first back to rush for 6,000, 7,000 and 8,000 yards in his Green & White career, and the first to get to 10,000 scrimmage yards. He was the first back to run for 200 yards in a game, at Cincinnati in the 1982 playoffs, and the only RB to do it before 2000. And McNeil today still tops all running backs in "chunk plays," defined here as rushes and receptions of 20-plus yards. Freeman had 68 chunk plays in his 10 Jets seasons, including playoffs, one more than Curtis Martin's 67 in second place.
The Jets Receiver with the Longest Pass-Catching Streak
Al Toon had a long yet still too short eight-year career as one of the best Jets wideouts of all-time. He came to the Green & White as their 1985 first-round draft pick, 10th overall, and proceeded to rack up receptions. Toon's 93 catches in 1988 were the most by a Jets receiver for 27 years, until Brandon Marshall notched his 109 catches in 2015. Toon's 517 career catches make him one of only three Jets receivers with 500 catches, along with Don Maynard and Wayne Chrebet. But perhaps most impressive was that, after taking his first six games as a pro to get his feet beneath him, Toon then went the rest of his career, 101 consecutive games, with at least one catch, the only 100-game streak in franchise history.
The Jets Receiver with the Biggest Downfield Dimension
Wesley Walker arrived from Cal in the second round of the 1977 draft legally blind in his left eye and fast as the wind and wasted no time in showing the Jets what they would have for the next 13 seasons. As a second-year WR, he led the NFL in receiving yards, and in 1986 he famously corralled four TD catches in one game — still a franchise record — to beat Dan Marino and the Dolphins in 1986. But his yards/catch is what sets Walker apart from all other Jets wideouts and most of them in league history. He had eight receptions of 70-plus yards in his career (no other Jet has more than five). And his 19.0 yards/catch for his career is the third-highest average in league history for the 159 players with at least 400 career catches.
The Jets Back Who Became an Outstanding Kick Returner
When New Jerseyan Bruce Harper migrated back east from Kutztown (PA) State to become a Jet in 1977, he wanted to be an offensive force, a ballcarrier and receiver, only to be told he'd have to handle kick returns also. So Harper threw himself into his new roles and became perhaps the best kick returner in Jets history. His 5,407 kickoff return yards and 1,784 punt return yards are both franchise career marks, while his 2,157 all-purpose yards in 1978 set the single-season record that wasn't broken until 30 years later by Leon Washington. And Harper is one of only two players in NFL history (Brian Mitchell's the other) with at least 1,500 career yards rushing, receiving, KO returns and punt returns.
The Jets' Top Tackle at the Ballot Box
Marvin Powell, the Jets' first-round selection, fourth overall, in the 1977 NFL Draft out of Southern Cal, occasionally spoke of his desire to aspire to high office, such as President of the United States. Powell hasn't gotten that far, but he's one of the top all-time vote-getters among Jets offensive linemen. The nine-year starting left tackle is one of only two Jets offensive players (joined by C Kevin Mawae 20 years later) to be voted by the league's coaches and players to five consecutive Pro Bowls. And Powell was one of only two O-linemen in the 60-year history of the Jets Team MVP Award (and two seasons after G Randy Rasmussen earned the honor) to be named team MVP by a vote of his teammates.
The Jets Linebacker Who Could Do It All
Mo Lewis stood tall in the middle of the Jets defense from 1991-2003. In 12 of those 13 seasons, Lewis started 15 games (and in 10 of them he started all 16). His impact was great moving forward (1,231 career tackles) as well as dropping into coverage (he's one of only 17 LBs in NFL history to have at least four interceptions and two INT-return TDs in one season). And his honors were unparalleled as a Jets 'backers — he's the only Jets LB to be named to more than one Pro Bowl roster (three in a row from 1998-2000) and the only Jets front-seven player to be named Team MVP more than once (in 1994 and '97).