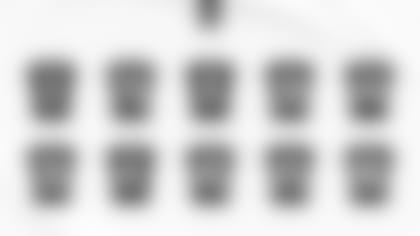 The Jets have released the jersey numbers for their free-agent signings and rookies.
QB Zach Wilson, who wore No. 11 and No. 1 at BYU, will wear No. 2 with the Jets. Fellow first-round pick OL Alijah Vera-Tucker and second-round pick WR Elijah Moore will wear their collegiate numbers -- 75 and 8, respectively. Former USC OL Chuma Edoga, who wore No. 75 the past two seasons, changed to No. 70 and QB Mike White changed his number from 8 to 5.
"I'm just mixing it up, doing something new," Wilson said at rookie minicamp. "I like any single-digit number, I think they're cool. I was the second pick, so that's a good reason to switch it up. Not much reason behind it but I just think it's a cool number."
WR Corey Davis, one of the first free-agent signings, will continue to wear No. 84, which is the same number he's worn since college at Western Michigan. It was also the same number his late brother, Titus, wore. Titus had a two stints with the Green & White and wore No. 84. TE Ryan Griffin changed to No. 86. WR Keelan Cole, who wore 84 with Jacksonville before signing with the Jets, will wear No. 88.
Carl Lawson will wear No. 58, the same number he wore in Cincinnati before signing with the Green & White in the offseason. Other free agents who will keep their numbers are DT Sheldon Rankins (No. 98), S Lamarcus Joyner (No. 29), TE Tyler Kroft (No. 81) and CB Justin Hardee (No. 34).
Players who will wear new numbers in their new threads include LB Jarrad Davis (No. 52), RB Tevin Coleman (No. 23), DL Vinny Curry (No. 99) and OL Dan Feeney (No. 67).
S Ashtyn Davis changed his number from No. 32 to No. 21 and rookie RB Michael Carter will wear 32. DL Kyle Phillips, who wore No. 98, is now No. 93. WR Lawrence Cager, who whore No. 86, is now No. 15.
Here are all of the number changes leading up to the 2021 season. (Numbers are subject to change.)
Table inside Article

| Player | Number |
| --- | --- |
| QB Zach Wilson | 2 |
| WR Elijah Moore | 8 |
| CB Brandin Echols | 25 |
| DB Michael Carter II | 30 |
| RB Michael Carter | 32 |
| CB Jason Pinnock | 41 |
| LB Jamien Sherwood | 44 |
| LB Hamsah Nasirildeen | 45 |
| OL Alijah Vera-Tucker | 75 |
| DL Jonathan Marshall | 96 |
Table inside Article

| Player | Number |
| --- | --- |
| RB Tevin Coleman | 23 |
| S Lamarcus Joyner | 29 |
| CB Justin Hardee | 34 |
| LB Del'Shawn Phillips | 43 |
| LB Jarrad Davis | 52 |
| DL Carl Lawson | 58 |
| OL Corey Levin | 65 |
| OL Dan Feeney | 67 |
| TE Tyler Kroft | 81 |
| WR Corey Davis | 84 |
| WR Keelan Cole | 88 |
| DL Sheldon Rankins | 98 |
| DL Vinny Curry | 99 |
Table inside Article

| Player | Number |
| --- | --- |
| K Chris Naggar | 1 |
| S Jordyn Peters | 22 |
| CB Isaiah Dunn | 36 |
| LB Camilo Eifler | 46 |
| TE Kenny Yeboah | 48 |
| DL Michael Dwumfour | 50 |
| LB Brendon White | 51 |
| DL Hamilcar Rashed Jr. | 55 |
| OL Tristen Hoge | 64 |
| OL Teton Saltes | 66 |
| OL Parker Ferguson | 68 |
| OL Grant Hermanns | 78 |
Veterans with New Numbers
Table inside Article

| Player | Number |
| --- | --- |
| QB Mike White | 5 (from 8) |
| WR D.J. Montgomery | 14 (from 81) |
| WR Lawrence Cager | 15 (from 86) |
| S Ashtyn Davis | 21 (from 32) |
| OL Chuma Edoga | 70 (from 75) |
| TE Ryan Griffin | 86 (from 84) |
| DL Kyle Phillips | 93 (from 98) |