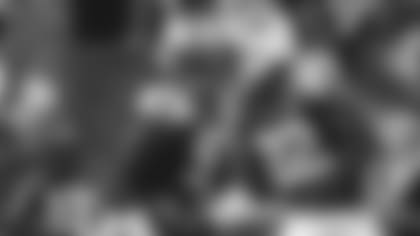 What to make of preseason team statistics? The really good ones are easy to shrug off, seeing how their compilation is from a very small sample size and made up of first, second and third units' contributions.
But it seems worth noting that the Jets' defense is ranked No. 1 in the NFL and hanging up some big zeroes in their three preseason outings in these areas:
Red zone defense: No. 1, 0.0% touchdowns allowed (6 field goals, 1 missed field goal, 1 takeaway in 8 drives)
Goal-to-go defense: No. 1, 0.0% touchdowns allowed (2 field goals, 1 takeaway in 3 drives)
Defensive touchdowns: No. 1, zero touchdowns allowed (the Giants' TD came on a punt return)
LB Avery Williamson, for one, wasn't going out to celebrate these numbers — even though his forced fumble from the Jets 6 vs. the Giants produced one of those RZ stops.
"We've got to continue to get even better and not be satisfied with little things like that," he said after the 22-16 loss to the Giants on Friday night. "It's a positive so far, but it's going to be a long road and we've got to continue to perfect everything."
S Marcus Maye was also keeping things in perspective.
"This year things are slowing down a lot more for everybody on the defense," Maye said. "There's obviously a few things we have to correct some more, but as far as the entire group, I feel good about it."
The negative stats, on the other hand, need to be corrected, and right away.
Penalties, for instance. Jets fans, media and players don't like them and how they've piled up this summer. Neither does head coach Todd Bowles, and after the Green & White's 13 penalties (not including two more that were declined) vs. the Giants, his patience seemed to be wearing a little thin.
"We can't have that going into opening day," Bowles said. "I thought the effort was great, especially in the first half. The penalties were and will be unacceptable going forward. We have two more weeks to clean it up, so we'll work on it."
Silver linings? The Jets' 27 penalties this preseason aren't worst in the league. In fact, the total is tied for 12th most, while their 243 penalty yards are 13th most.
The Jets have one more game to work on everything — on the road against the Eagles, who of course are the defending NFL champs. But we don't need to say that after Thursday night, all stats get zeroed out and we start keeping track of everything all over again. Then we'll know soon enough if the Jets' penalties are truly a problem, and if they need to worry about overconfidence from their top-ranked defense.