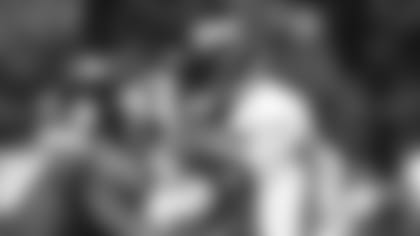 If Shawn Jefferson was into infrastructure construction the sign he would probably hang outside the meeting room for Jets receivers would simply read: Under Construction.
"We have to build in practice," Jefferson, the team's assistant head coach offense/wide receivers, said at the Atlantic Health Jets Training Center. "We don't have the luxury of taking a step back. The guys in the room have an opportunity. It's all under construction right now."
While the Jets' wide receiver corps is likely to take flight propelled by the arm of third-year quarterback Sam Darnold, right now the group is legitimately engaged in the so-called "boarding process." Denzel Mims, the rookie second-round draft pick out of Baylor, has been sidelined early in camp with a nagging hamstring injury. Braxton Berrios, who saw action in 15 games last season, has yet to participate in workouts. And Josh Dotcson, who signed as a free agent in the offseason, opted out of the 2020 NFL season. Finally, Vyncint Smith, a practice squad player who is among the fastest players on the roster, will miss 5-to-8 weeks after undergoing surgery on his core.
On the plus side of the wide receivers ledger, the Jets will benefit from the return from injury of tight end Chris Herndon; the acquisition last week of the Jersey native and NFL veteran Chris Hogan; and the signing of the speedster Breshard Perriman. Add to the mix the progress of Jeff Smith, who spent most of last season on the practice squad.
In training camp this week, the acquisition of Hogan caused a buzz among his new teammates and the wide receivers coaches.
"He knows how to get himself in shape and knows what it takes to be able to play in this league for a long time," said wide receivers coach Hines Ward. "I love the leadership that he provides in our room because he's out there helping the young guys like 'hey man, we have to pick it up,' or I need to push myself to do better and better each day. The leadership aspect with somebody who's been there and done that — that's what I like about Chris Hogan. He's the ultimate pro."
Hogan, a 6-1, 210-pounder in his eighth NFL season who has averaged 13.3 yards on his 202 regular-season receptions, appears to have made a seamless transition and has already shown promising flashes early in training camp.
But as both Ward and Jefferson, pretty good receivers in their day, know well the rapport and connection with the signal caller is among the most elusive and important goals if a team aspires to putting an explosive offense on the field.
"That's the key to any passing game -- rapport with the quarterback," Ward said. Speaking about Perriman (a six-year veteran signed as a free agent), Ward added: "He's picked up on the offense quickly. Now it's a matter of getting the timing down with Sam. He has the speed, but he's not a one-trick pony. The more reps he gets in with Sam the quicker they will be able to develop that trust, and that's a key thing for a quarterback."
Who lines up on the flanks to open the regular season at Buffalo on Sept. 13 is still to be determined. The goal is to provide Darnold with a slew of tantalizing options out wide, in the slot, at tight end and coming out of the backfield where Le'Veon Bell and Frank Gore add another dimension.
"Sam throws a great ball, all you have to do is be in the right spot," Ward said. "He can drill it and has a finesse touch. As a receiver all you want to have is an accurate quarterback."
Still only one week into a training camp that has felt the impact of the pandemic, Jets fans have been quick to obsess about the injuries and uncertainty facing the Jets' aerial attack.
Asked how he would address fans who are poring over injury reports and any information they can get their hands on, Jefferson said: "First of all to be brutally honest, this is a brand new group. To the fans I'd say, 'you guys are right.' We have a guy like Perriman, we got [Jamison] Crowder, one of the top receivers in the league and one of Sam's favorite targets. Then we've got a young group, like Smith and Mims. We've got some guys with speed and they're going to be able to make some big plays for us. Just hold on and see how things pan out. We're making progress. We need to be excited about this group. They understand the process and are dedicated to it."