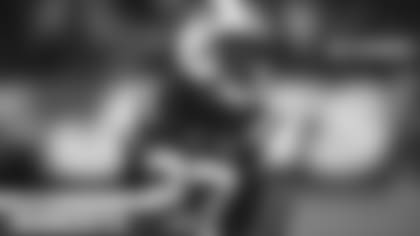 The Jets have re-signed versatile veteran defensive back Darryl Roberts, who could have become an unrestricted free agent Wednesday.
Why did Roberts want to return to the Green & White. He told newyorkjets.com's Olivia Landis that coaching — new head coach Adam Gase's signing of new defensive coordinator Gregg Williams and the retention of secondary coach Dennard Wilson — had a lot to do with it.
"I would say the coaching staff that came in. Gregg Williams is a mastermind, and I just love the Jets so I thought it would be a good decision to come back.
"And I love Coach D. Great coach, coaches hard, and he's smart, too. He came up under Gregg, so I think those two together are going to have us pretty right in the back end."
Roberts had his best NFL season in 2018, his third year as a Jet after he was acquired via waivers from New England at the start of the 2016 season. He recorded career highs of 16 games, 10 starts and 48 tackles, defensed seven passes and had his second career interception in Game 4 at Jacksonville.
Further, when injuries built up at safety, Roberts shifted from cornerback to the deep middle for five late-season starts. In shifting responsibilities, he became the first Jets defensive back to start at least five games at corner and at least five at safety in a season since Johnny Lynn in 1985.
Besides his 725 snaps on defense in 2018, Roberts logged 210 plays and recorded four tackles on special teams.
"You never know when you're going to get your opportunity," Roberts said during the season, "but the only thing you can do is prepare for it and make sure you're ready when it presents itself."
"Darryl does whatever it takes," Wilson said. "He listens to coaching, he reads his keys, he studies. If you ask him to do something, he's going to do it to the best of his ability. ... I'm proud of him.