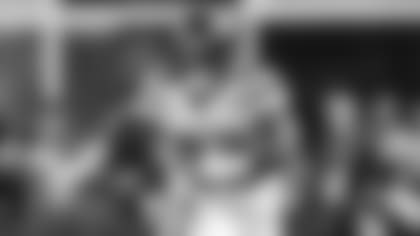 We learned a lot about Jets running back Ty Johnson this season.
We found out he was a big fanime (a fan of anime, of course) and specifically of the Japanese anime television series Dragon Ball Z.
He also loves his dogs, his St. Bernard husky mix named Cassius and a golden retriever he got last offseason that he dubbed Luigi.
We know he takes care of his body and knows his way around the kitchen but still marvel at his heart-stopping mac-and-cheese recipe ("I need two whole bags of cheese, a whole bunch of milk, and two sticks of butter, of course, because you need it to be right.")
But the most important thing on the football field for Johnson is that he is really into his teammates and his team.
"The best part of the season? Just the relationships," he told newyorkjets.com's Caroline Hendershot from the players' parking lot after the 2021 season was in the books. "There were a lot of new guys in the building, so just getting to know everyone, especially in the running backs room — Teco, MC, Austin, LP, Nick — it's just been a great time, good vibes, good energy."
That's Tevin Coleman, Michael Carter, Austin Walter, La'Mical Perine and Nick Bawden
"The fact that we're building something, how can you not get excited about that? Obviously the season didn't go the way we wanted it to, but the future's still really bright."
What really stands out for Johnson is how he took the time he was given on the field and optimized his production. Many fans may remember only his dropped passes this year, specifically three on his first three targets in the first quarter against New Orleans. But he didn't alibi that, overcame it, and still had a solid season.
He led the offense with 12 third-down conversions, an area you would expect your third-down back to excel in. And he did a noteworthy job with his 34 receptions:
■ His unofficial 9.6 yards-after-catch average was the second-highest YAC figure by any Jet regardless of position with at least 25 catches over the past 25 seasons. The only higher YAC-er: Leon Washington, the Jets special teams coaching assistant who, back in his rookie season of 2006 with the Green & White, averaged 9.7 yards after each catch.
■ Added to his yards-before-catch average, the slippery Johnson posted a 10.9 yards/catch average. That's the fifth-best average all-time by a Jets RB and the best since Freeman McNeil's 11.2-yard mark in 1985.
Johnson also averaged 3.9 yards/carry and posted career highs of four touchdowns and 610 scrimmage yards. On another team he might have earned more time. But with rookie Michael Carter asserting himself and the Jets having a specific division of labor for its running backs room, he got only 95 touches and 409 offensive snaps. Yet that was OK with him. He said of his role:
"You know, it's just doing my job whenever the opportunity comes, whether it's staying in and blocking, catching out of the backfield, doing short yardage. Really wherever I'm needed, to be put in that position and just execute."
He's looking forward to executing in 2022, having enjoyed this past season under new head coach Robert Saleh. But first comes some down time with some of his BFFs.
"I'm about to go camping with my St. Bernard husky and I'll take my golden retriever, too," he said. "There's a state park 20 minutes away from my crib. You can go off-road in there. So I'm going to go camping, chill with the family, just vibe. And then after some time off, get back to work."