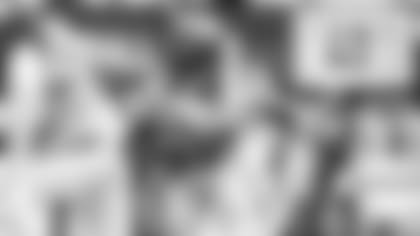 Michael Carter can attest to the differences between college football and the pro game. The rookie running back has gotten a taste of that in the first four weeks of the Jets' season, which has gone quite well but not quite the same as his four seasons of ball at North Carolina.
"In college, when we got down to the goal line, they took me out," Carter told Eric Allen and Leger Douzable on the Official Jets Podcast. "My coach was always like, 'Mike, you're a home run hitter, but if you get down to that 5, to that 1, you're comin' out.' So that just motivated me to have longer runs.
"The NFL's a different game. I was still in the game on the 1-yard line, so I said, 'I gotta get in, I gotta get in.' "
And Carter did cross the goal line against the Titans in the second quarter — for his first touchdown as a pro and the Jets' first TD in nine quarters. It was officially from 2 yards out, but who's counting? Certainly not his bigger-bodied blockers who helped escort him to paydirt.
"The play was just a little inside zone," he said. "I got what I could get, then my teammates helped me with the rest of it. It started with George [Fant], then Connor [McGovern] came over and [Trevon] Wesco, he really rocked me, gave me a good push."
After that, it was time for a little celebratory stomp, which Carter said came not from pro football but from pro wrestling.
"That was the Heartbreak Kid, Shawn Michaels," he said. "When I was younger, I used to watch a lot of wrestling — John Cena, all those guys. I was like, man, I've got to do that if I score."
Should Carter crack the goal line on the Tottenham Hotspur Stadium pitch in London on Sunday against the Falcons, he'll have a tough call. He said for the celebration after his next TD, "I think I'll probably give the ball to a lineman and let him spike it, because I'm not in the end zone without them, so I'll let them get the love."
Yet being in England, one of the homes of that other kind of football, also may influence Carter, who also not surprisingly plays a lot of video games.
"I'm pretty good at 'FIFA.' In terms of like following soccer every day, not really, but I know some teams," he said, adding of playing in London, "That's going to be lit, it's going to be fun. My girlfriend's sister lives there right now. I think she's going to come to the game so I'll have somebody there. But I'm excited to go."
Yet all this talk of WrestleMania and video games and football across the pond does nothing to detract from Carter's love of his first game. He's not flying free as a bird yet like he did in averaging 6.6 yards/carry and 8.0 yards/catch and scoring 28 touchdowns in his UNC career.
But he's listed on the team's unofficial depth chart as the RB starter and he leads the Jets with 37 carries for 127 yards, with six catches for 44 more yards. He's got his first TD and his first victory and he couldn't be happier setting out on his play-for-pay career and with the Jets, in particular their rookie class.
"I love football so much," he said. "This is my dream. The only thing I ever wanted to do is to be great at football. Just being around Zach [Wilson] and the rest of our guys, they're like that, too.
"We're really close. and it feels good that way because we know what we can do here. We know with the help of the vets and the coaching staff and the support staff we've got, we know we can do some special things here."
See the Top Images of Corey Davis, Zach Wilson, Jamison Crowder and the Jets Offense During the Win Over the Titans