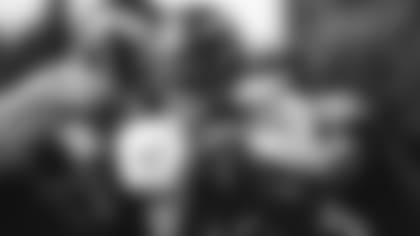 On the one hand, it's premature to hit Le'Veon Bell with the "almost 30-year-old running backs" question. Bell will be 28 all season and in his eighth year in the league — seventh if you remove his missed 2018 before departing the Steelers for the Jets.
On the other hand, Bell just bundled that lost '18 with the lowest rushing figures of his career last year with the Green & White. So, Le'Veon, what makes you think you can defy the relentless downward trends for aging backs?
"Honestly, other guys may not have the same mindset as I've got, the same drive," he told Jets reporters after Monday's practice. "I'm 28 years old, I played in this league at 21, and I feel better at 28 than I did at 21."
Bell then provided several reasons for his optimism. One really stood out, and that's the presence of another back on the roster, someone almost 10 years his senior.
"I look at a guy like Frank Gore, right? And I'm fortunate that he's in our room," Bell said. "I kind of pick his brain over little things here and there. And he has a similar mindset to what I have. So he's 36, 37 years old and he's playing at a high level still and he's talking about the things he was doing when he was 28. So I know I'm doing the right things because I'm hearing it from a guy who's done it, who's doing it."
Then Bell touched on a key proviso for all the talk about a back's age: It's just that. Talk.
"I'm really not worried about age," he said. "People talk about age for a running back, 'It's this age when they fall off.' But Frank tells me, 'They're going to put a number on you. ... You can defy the number, Le'Veon, you can do that.' That's something I embrace."
There are a few other things working in Bell's favor. One is how LVB stacks up against the track record of the NFL's 10 top backs by career yards, a list that includes Gore at No. 3 and Jets great Curtis Martin at No. 6. Those backs averaged a seventh season of 307 carries, 1,367 yards (4.5 yards/carry) and 10 touchdowns. Bell was very close to those averages in his second, fourth and fifth campaigns with Pittsburgh.
Other factors working for the Big Bell Bounceback:
Sam Darnold: "Everybody goes about their way differently," he said of his QB, "but the way Sam does it, you want to follow him, you want to listen to him and work hard for him. That's the kind of player you want."
The rebuilt O-line: "I think the sky's the limit," he said of the mostly new unit of linemen he's running behind this training camp. "It starts with the guys up front. I think over the course of camp, each and every day they've gotten better with grinding and staying in their playbooks and being sharp with their assignments."
The Jets' top-ranked run defense: "It helps tremendously," he said of practicing against the Jets D, which was second in the NFL in both rush yards allowed/game and yards allowed/carry ."Those guys practice hard, one, and two, Gregg Williams is a great defensive coordinator. ... Seeing that, seeing blitz pickups, seeing third-down pressures every single day, it's only going to make things that much easier in a game."
Without a preseason schedule this summer, the Jets' first game at Buffalo is less than three weeks away. Bell knows the rules in this league: Put up or shut up. But his enthusiasm is infectious and at this moment a rebound season seems doable.
"I think it's going to be a fun year," he said, "and I'm excited."