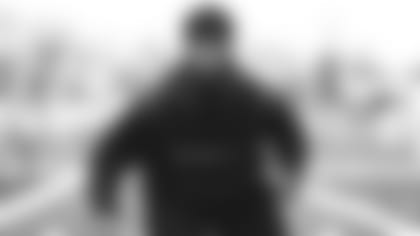 It's been a busier offseason than one might expect for a highly promising, rehabbing second-year running back by the name of Breece Hall.
The Jets back from Iowa State was an interested observer who talked several times to Jets defensive coaches regarding his former ISU teammate, edge rusher Will McDonald IV. Then in late April, the Jets grabbed McDonald at the 15th overall spot and the two Cyclones from opposite sides of the ball were reunited in green.
Then Hall had to get acquainted with his new quarterback, Aaron Rodgers, which didn't take long but is an ongoing relationship. "He's a jokester. Actually, he's really cool, really funny," Hall said of ARod. "Me and him, we make fun of each other a lot."
But the most important thing for fans to hear aside from how Breece is getting along with his teammates is how he's getting along in his rehab from his October ACL injury that required surgery. The reports from Hall and from head coach Robert Saleh were mostly optimistic.
"It's going good," Hall told reporters in his first remarks from the Jets' OTA practices and offseason program. "It's good to be back on the field, running around, doing drills, starting to cut and stuff, feeling like myself again. I'm progressing, so it's good."
Saleh was also excited about the progress Hall was making.
"He's one of those kids that we've had to kind of hold back ... because there's a process, it's weird to say, you don't want to heal too fast on an ACL. You've got to be able to balance it out with the strength," the coach said, adding with his upbeat cadence, "He looks strong, he looks powerful, he's learning. I'm excited for him to get back on the field. I feel like he won't need to be limited during training camp, even though we still will, just to be conscientious and cautious with him. But he looks awesome."
So when Saleh talks about "all gas, no brake," he doesn't necessarily mean for Hall to go tearing it up in late-May 7-on-7's. And Breece has gotten that message, too, to the point where he's not projecting too far into the future about his progress, such as toward returning to the field on opening night against the Bills.
"I'll be ready when I'll be ready," he said with a patience that belies his still tender age as a potential NFL star runner (he turned 22 today). "Obviously, I hope I'm ready, but you never know. I'm taking it a week at a time and letting my knee do what it does."
To help him get over some of his rehab hurdles up till now, Hall said he got in touch with some backs who've had similar injury issues, such as the Giants' Saquon Barkley, the 49ers' Christian McCaffrey and the Titans' Derrick Henry.
"After I first got hurt, me and Saquon had some long conversations," Hall said. "Christian hit me up and I talked to Derrick a couple of months ago at a signing. We talked about going through injuries, keeping your mental right, and pushing through every day."
What Hall was pushing toward before last year's injury was an incredibly beguiling first NFL campaign. He averaged 5.8 yards/carry — the best average by any Jets RB with 75-plus carries in a season since Leon Washington's 5.9 in 2008 — plus another 11.5 yards on 19 receptions. He scored the last-minute game-winning touchdown at Pittsburgh, a 62-yard TD at Denver that was the second-longest rush by any Jets rookie, and a 79-yard non-scoring catch-and-run vs. Miami that was the second-longest reception by any Jets back.
But Hall insists he's let what could've been go. When he and NFL Offensive Rookie of the Year Garrett Wilson do some trash-talking and Hall says, "If I didn't get hurt ..." all of the talk is in good fun and none of it is about Hall pining for what could have been if he didn't miss his final 10 games.
"What's past is past. I really can't take it back," he said, again sounding like a 32-year-old vet rather than a 22-year-old young pro. "I don't really care about that stuff. I'm just looking forward to being the same Breece making all those plays last year.
"My expectation is to be the best me I can be."