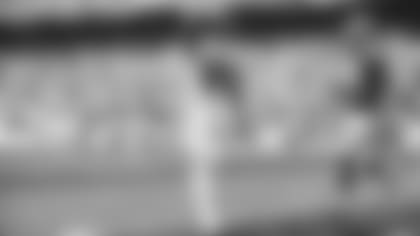 After Impressive Rookie Season, Iowa State Product Celebrated Awards Wins for CB Sauce Gardner and WR Garrett Wilson
Rookie running back Breece Hall said that he had a simple request for the Jets' offensive line last season.
"The O-line did a real good job blocking it up for me and I told them just let me get past the line and I'll make it happen from there," Hall told "Super Bowl Live" on NFL Network last week in Arizona ahead of the NFL title game. "Once they made it happen, I knew I'd be fine."
"Fine" hardly defines the impressive impact the first-year player from Iowa State (where he played three years with 49ers quarterback Brock Purdy) had on the Jets offense in a mere seven games -- before Hall sustained a season-ending ACL injury at Denver.
"So dynamite to watch," said Rich Eisen of NFL Network. "He got me up off the couch in ways I hadn't gotten off the couch watching the Jets in a long time. I'm just knocking on wood, the rehab is apparently going really well, ahead of schedule, all the stuff you need to hear. If he comes back, then that would significantly impact the quarterback situation. So let's go. He fires me up man."
And in his too-brief time on the gridiron during the 2022 NFL season, Hall (the No. 36 pick overall in last year's NFL Draft) fulfilled the hype in nicknames like Breece the Beast and Breece Lightning.
Head coach Robert Saleh called Hall "a home-run hitter" early on, even when it took a while for him to perfect his "swing." In the first three games of the season, No. 20 gained 112 yards on 21 carries without a touchdown. Then it all switched on: 17 carries, 66 yards, 1 TD at Pittsburgh (and the first of two Pepsi Rookie of the Week Awards); a breakout performance the next week against Miami, going for 97 yards on 18 carries with 2 pass receptions for 100 yards; followed by a 20-carry, 116-yard gem in the Jets' win at Green Bay (another Pepsi award).
The next week, at Denver, Hall seemed to pick up where he left off at Lambeau Field, shredding the Broncos for 72 yards on only 4 carries in a mere 12 plays. And then, Hall's promising rookie season was over. He felt a pop in a knee, which was determined to be a torn ACL. The Jets left Colorado with a 5-2 record. Even though he missed the remainder of the season, Hall finished as the Jets leading rusher with 463 rushing yards on 80 carriers and had 218 yards on 19 pass receptions.
Over the course of the season, Hall notched two of the Green & White's five longest rushing plays (25-plus yards): the 62-yard TD run at Denver and the 34-yard TD run at Green Bay.
Last week Hall, to the surprise of the "Super Bowl Live" panel, Hall said that he felt his limited time in the NFL felt easier than his time playing in college for the Cyclones.
"I felt like really I was just starting to get settled in and the game started slowing down for me," Hall said. "That's what resulted in me making those big plays. And just seeing how some guys really don't want to come down and tackle, which was making it easier for me.
"I think it was a little bit easier for me than in college because in college teams were playing for mostly me and Brock. So in the NFL, guys have to game plan for the whole team."
Hall's statistics jump off the page: He led all rookies when he averaged 97.3 yards a game, gaining 5.8 yards a carry. According to Pro Football Focus, he was No. 2 in yards (4.13) gained per carry after contact (based on 70 minimum carries among 59 running backs) and according to Next Gen Stats was No. 1 league-wide in rushing yards over expected per carry (1.49).
"A legit potential rock star," said Ian Rapoport of NFL Network. "Like truly an excellent player and my guess is he would have been the Offensive Rookie of the Year had he not gotten injured."
Perhaps. Consider that Purdy, the final selection in last year's draft, also played in only seven games but was among the top three candidates for the offensive rookie award. One could make a case that Hall should have earned the same consideration. But he said, personal accolades aside, he was thrilled that his teammate, WR Garrett Wilson, walked away with the award at the NFL Honors ceremony last week.
"I'm doing better seeing my guys [Wilson and Defensive Rookie of the Year Sauce Gardner] win awards," Hall said. "Unfortunately, my season got cut short, but it was good to sit there and watch from a fan's perspective and see how Garrett was balling out, watching how good our defense was and now we're just a piece away from being a good team.
"I'm not mad. If I wasn't going to win it, I'm glad Garrett won it. Two Jets, Sauce and Garrett. I'm really happy for them."
Hall is optimistic ... about his return and the Jets' next season supported by an exciting young core of players.
"We got a new OC [Nathaniel Hackett] and a new O-line coach [Keith Carter] and we're expected to do bigger and better things," Hall said. "I'm excited to see what we do and how we grow as an offense and as a team."