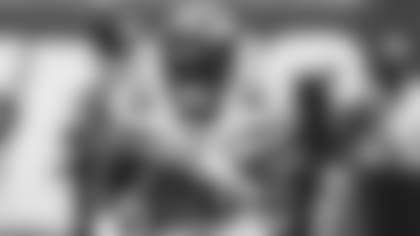 Before you can run, you must walk. And before you walk, you must crawl. After taking some early baby steps, Jets rookie running back Breece Hall is picking up the pace three weeks into his NFL career.
"I feel like now is kind of getting towards a point where I'm reaching my stride," Hall said. "You know, I had a pretty good game last game, but had a few drops. I dropped what I feel like what would have been a touchdown that me and Joe [Flacco] didn't fully connect on. We were kind of off-kilter on that, but I feel like I'm doing fine."
Targeted 11 times against the Bengals, Hall had six receptions for 53 yards. He also averaged 4.9 yards on his eight carries in a 27-12 loss. The team's second-round pick from Iowa State leads the Jets with 213 scrimmage yards, totaling 112 yards on 21 carries and adding 13 receptions for 101 yards and 1 touchdown. Hall, who also leads the offense with 5.3 yds/carry, is the only rookie in the NFL with 100 yards rushing and receiving.
"I just knew the offense was going to be very running-back friendly and we've been doing a good job of getting me and Michael Carter involved," Hall said. "I feel like we still left some yards out there on the field. We're getting better, we're coming in and watching film, and finding out ways for us to get better. It's going to definitely progress here some more."
Hall added: "Coach (OC Mike) LaFleur is always talking about how he wants to get the ball in me and MC's hands. So, we're pushing each other every day. As much of a competition it is, we're still working to get each other better and we're working to get the team better."
On Wednesday, HC Robert Saleh announced that QB Zach Wilson was medically cleared to return following a non-contact knee injury. Wilson will rejoin an offensive backfield that features Hall and Carter, whose 26 receptions are tied for most by a RB duo.
"Just having him in the field again, just to hear him playing around, you could tell that he was a lot happier now that he's back," Hall said of Wilson. "I feel like running backs, we take pride in being human erasers. In pass protection if we need to help out and stay in to help keep Zach off the ground, we do that. If we need to be an outlet for Zach to get the ball to, we do that. So, I feel like there was no drop-off in chemistry. When he wants to get us the ball, he's going to get us the ball. We'll be fine."
The Jets will face a Steelers defense that ranks 24th in total yards but 12th in yards per play (5.13). Pittsburgh is missing dominant pass-rusher T.J. Watt and has allowed nearly 143 yards per game on the ground. Despite juggling at LT, the Jets are averaging 4.42 yards per rush.
"Veteran defense, really good defense," Hall said of the Steelers. "They stick to what they do. You know, they, they do a lot of different things. Give you a lot of different looks. We're going to stick to what we do, and our mentality is that it's all about us."