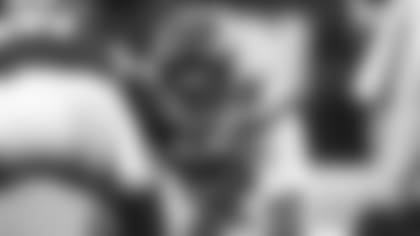 Just about everything is right in Quinnen Williams' world.
The Jets' Pro Bowl defensive lineman may be having a tough time matching his career-high 12 sacks from last season —he has two sacks through eight games — while drawing the double-team attentions of opposing blockers. And his team suffered a 27-6 hiccup to the Chargers on Monday night. But "Q" was quite upbeat in talking about himself, his linemates, his defense and his team after Wednesday's practice.
"I think it's going pretty good," Williams said of the Jets' season. "We're still in a positive mindset. We're sitting at 4-4 and we've got a good road ahead of us. That [LA] was a great offense and a great team in general. We just learned from our mistakes and we move on to the next thing."
That thing is the conclusion of the AFC West portion of the Jets schedule. All four of that division's opponents came up in a six-game span, with No. 4, the Raiders, lying in wait in the Las Vegas desert for the Jets on Sunday night.
It's also the next opportunity for Williams to turn on the pass rush, but he remains unconcerned about the sack trickle he's experienced in the first half of the season.
"I'm not really focused on it, man," he said. "I'm just focused on getting better every single day, doing the necessary things I can to help this defense win."
Head coach Robert Saleh had a strong analysis on Williams' 2023 season when he spoke with reporters before practice.
"Teams are going out of their way to game-plan Quinnen, to try to take him out of the game, but he's still absolutely wrecking run games," Saleh said. "Fact-check it because I'm not sure, but he ranks top-five in pressures, top-five in pressure rate, top-five in PFF [Pro Football Focus] grades, top-five in every statistical category you can conjure up. He's just not getting the sack production.
"What we've seen is a much different approach to the way teams protect against us, a lot less double-chippers and a lot more attention to Quinnen. Which means Jermaine Johnson, Bryce Huff, they're absolutely wreaking hoavoc on quarterbacks this year and opening it up. Teams got to pick their poison. You want to pay attention to Quinnen, our other guys are going to be productive. You want to pay attention to the edge rushers, it's going to open up for our inside guys."
Indeed, any Jets fan not paying close attention may be surprised that Huff (5.0) and Jermaine Johnson (4.5) are 1-2 in sacks on the team, and that Huff (13), John Franklin-Myers (11) and Johnson (9) are 1-2-3 in QB hits. But those leader lists not only don't surprise Williams but please him in his role as the marked man on the D-line.
"We've been playing great," Williams said of the line. "We've just got to get the quarterback down. How can we get the ball off the quarterback? We've had a lot of pressures, a lot of sacks, doing a lot of things up front really well, especially with four-man rushes."
"Q" then supplied some succinct scouting reports on some of his mates in the Jets' punishing DL rotation
Huff — "He's been unbelievable, man. He's got one of the best get-offs in the NFL, one of the best pass rushes."
Johnson — "We knew he was going to have a good year from the beginning, the way he would come to work and do different things. We just knew he was going to have a breakout year."
JFM — "He's playing out of his mind right now."
Williams at the end of his media session said he wanted to give his view on an "upsetting" remark that ESPN analyst Troy Aikman made during the game broadcast that Williams told Aikman that he was the highest paid decoy in the league.
"I don't know where he got that from," Williams said. "I never said that, I never talked to him before the game, I never alluded to it. It never came out of my mouth."
That unprompted statement was in keeping with Williams' positive views on all the things he talked about before setting the record straight, specifically that not getting sacks may not be ideal for him but may be highly productive for the Jets individually and as a team.
"No, it doesn't get frustrating all," he said. "What gets frustrating is when we lose games. It's a team sport. it's not all about Q-Q-Q. My mindset is to help this team win and help our goal to be the number one defense. Whatever I can do to help that goal, I want to do."