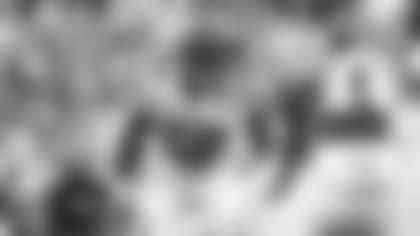 Jets LB Quincy Williams has been arguably the Jets' best defender this season. Over the first seven games, he is tied for the team high in tackles (71) and his 8 tackles for loss lead the defense. And heading into Week 9, fresh off the Jets' rain-soaked victory against the Giants 13-10, the hard-hitting linebacker is looking forward to playing under the lights on Monday night against the Chargers at MetLife Stadium.
"There will be bright lights and it is a night game, so it is big time," Williams said. "A lot of people will be watching, so we expect us and the crowd to be rocking. It is also a primetime game, so I expect a lot of energy from the fans and us."
Williams has had a knack for playing well in primetime this season. In the Jets' two night games – and a 22-16 Week 1 win against the Bills and a 23-20 Week 4 loss to the Chiefs – he registered a team-high 23 tackles paired with 3 tackles for loss and 3 pass defenses. In those two contests, QBs Josh Allen (3) and Patrick Mahomes (2) combined to throw 5 INTs. Williams and the Jets also held Buffalo to just 97 yards rushing.
In Week 9, Williams will turn his focus to slowing current Chargers OC/former Cowboys OC Kellen Moore and another elite QB in Pro Bowler Justin Herbert.
"The biggest thing in preparing for the Chargers is preparing for the misdirection," Williams said. "They have a large package similar to the Cowboys. The preparation throughout the week will be important and we actually get an extra day."
Herbert (6-6, 236) has thrown for 270 yards per game this season and 13 touchdowns and 4 interceptions. The fourth-year quarterback has a big-time arm and is No. 6 in the NFL in air yards per completion (8.1) and No. 1 in pass attempts per game (39.6).
In two primetime contests this year against the Cowboys and Bears, Herbert has thrown for 5 touchdowns, 1 interception and posted a 103.4 QB rating.
"He is a really good quarterback and is really good at using the guys around him," Williams said. "[Austin] Ekeler is his get out of jail free card. It will be important to figure out where he is. They are a good offense to go against."
Ekeler, nicknamed "pound-for-pound" by his teammates because of his violent running style, missed weeks 2-4 with an ankle injury, and since his return has been the engine behind the Chargers offense. In the Bolts' Week 8 win, 30-13, over the Bears, Ekeler touched the ball 20 times for 164 all-purpose yards including a 35-yard touchdown reception. Since 2020, he has 44 touchdowns which ranks second behind Raiders WR Davante Adams.
"His running and catching is really great," Williams said. "He also knows how to use his speed and is really great route runner. He is dangerous out of the backfield. They put him on a lot of linebackers, so it will be a big thing for us."
Against the Giants in Week 8, the Jets defense played outstanding while holding the G-Men to -9 yards passing. However, Williams registered two personal fouls in an otherwise superb performance that saw him finish with 11 tackles, 2 TFLs and 1 PD. The Jets registered 3 personal fouls in the overtime win. With an extra day to prepare for the Chargers explosive offense, Williams said they plan to clean up the penalties.
"The first one was uncalled for, it was more of like a selfish penalty, so I take that as the heat of the moment type thing," Williams said. "That was one of those moments where you just got to take a step back, actually calm down. I can complain and be like, well, he had me by my neck, but no one really wants to hear that. Just got to be better."