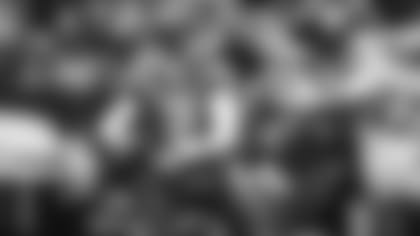 Zach Wilson's return to the Jets' starting lineup after three games featured 7 big pass plays of 20 yards or more. Four of those were in the second quarter when the offense came alive to score 10 points and the Jets headed to the MetLife Stadium locker room tied with the Detroit Lions on Sunday. But the Jets managed only 7 points in the second half and dropped a 20-17 contest.
"I thought he [Wilson] was really good in the first half," head coach Robert Saleh. "In the third quarter, we hit some adversity. I thought he finished strong, gave us time for the game-tying kick. Unfortunately, it didn't work out."
In the second quarter, Wilson completed 6-of-10 passes for 164 yards. He got the Jets on the scoreboard with a 40-yard TD pass to TE C.J. Uzomah, his first TD reception since joining the team in free agency. On the play, Wilson rolled out to his left and unleashed a frozen rope to Uzomah across the field against the flow.
"I think it goes back to we had some big plays," Wilson said after the game. "[OC Mike] LaFleur did a good job setting me up outside the pocket."
On that scoring drive, Wilson completed 4 straight passes, 2 outside the pocket showing good footwork and determination. On the play before the TD throw to Uzomah, Wilson completed a 33-yard pass to rookie WR Garrett Wilson, who finished the game with 4 receptions for 98 yards.
Zach Wilson was inactive for the past three games as he went through a "reset," in Saleh's words. As a starter this season, the Jets are 5-3 with Wilson under center. He started for the first time in four games because Mike White wasn't cleared for contact with a rib injury sustained at Buffalo. Wilson finished the game with 18 of 35 for 317 yards, the 2 TD passes (both to Uzomah) and an interception. Wilson's passer rating, which was north of 150 in the second quarter, dropped to 89.8 by the end of the game.
That turnover came on the Jets' opening drive of the second half, when they had an opportunity to lap the Lions after K Greg Zuerlein closed out the first half with a 34-yard field goal, tying the score, 10-10.
On a first-and-10 play at the Jets' 36, Wilson was under pressure and tried to find Elijah Moore on the near sideline, but it was picked off by Jerry Jacobs and returned 38 yards to the Jets' 15.
"It was a bad decision," Wilson said. "I was trying to locate Garrett over the middle. I forced it. I shouldn't have thrown it." He added: "I've got to be better. On first and second downs, you have to be ahead of the sticks. I can think of a number of plays we left out there."
The Jets ground game produced only 50 yards, with Bam Knight producing a team-high 23 yards on 13 carries.
Asked what seemed to change after the first half, Wilson said: "Just the ups and downs of football. You know in that moment going out and throwing a bad interception, I gave up 3 points. I put our defense in a bad situation there and you see how those 3 points come back to bite us. I have to take care of the football. But the mindset after that is move on. It happened. How can I rebound from this? You have to be able to move on in this league."
The Jets took the lead, 17-13, late in the fourth quarter. At first it appeared that Wilson had scored from the 1-yard line on a sneak, but video review overturned the ruling on the field. On the next play, Wilson floated a pass to Uzomah for the go-ahead score. Detroit, on its next drive, faced a fourth-and-inches at the 2-minute warning. QB Jared Goff found TE Brock Wright open in the left flank and he rumbled for a 51 yards on a catch and run for the go-ahead TD.
Still the Jets had a chance to tie or win the game. With 1:49 to play, Wilson was sacked on the first play, but took the Jets to their 40, facing a fourth-and-18. He rolled out and found Moore for 20 yards, and with 1 second on the clock Zuerlein's 58-yard attempt sailed wide left.
"With 1:59 left, it's tough, but I feel like we had more than enough time, I expect to score," Wilson said. "Some of that 2 minutes I want back. I stayed poised in pocket and stepped up. Yeah, I want some plays back." He added, telling Jets play-by-play man Bob Wischusen: "We have to score more points, and that starts with me."
With a short turnaround ahead of Thursday night's game against Jacksonville, Saleh said he was not ready to say if Wilson or White would start against the Jaguars.
As far as possibly starting a second consecutive game, Wilson said: "It's not up to me. For me, it comes down to trying to put offense in position to win. I didn't do it today."