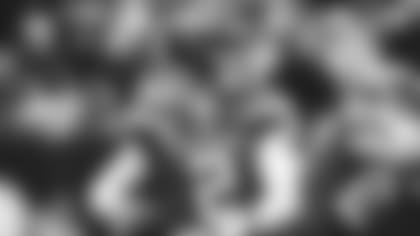 Robert Saleh's immediate itinerary for Zach Wilson was to find some sandy beaches and a few good reads.
"That's the greatest gift you can give yourself is to discover yourself," the Jets head coach said before the Dolphins game. "Go read a book, go do something. Get away from this game, just reset."
Wilson gave every impression in his final media availability of the season that he'll be scouring the book of Zach for information and inspiration.
"Yeah, I want to get to work obviously as soon as possible," the quarterback said after packing up his locker and before heading west for a while. "There's going to be a little bit of that, just going home and decompressing, putting a plan together. But really, I want to get to work. I'm eager to try and improve and find those things.
"It's been a season full of just learning, technique and everything. I'm going to go back to watching the film and seeing what plays specifically I can do better on. I'm truly excited to attack that."
From that response and many others on Monday, Wilson said all the right things.
Does he want to remain with the Jets in his third pro season? "Absolutely, I do, and I think it's because this is a special place and the people here are special and this locker room is full of special guys."
Did he think maybe he might have developed quicker if he hadn't been the Jets starter from day one? "The competitor in me is never going to say that. I was absolutely looking forward to that, and even now, I'm going to be the player I'm going to be because of that. I'm extremely grateful for the opportunity and an opportunity is an opportunity, and I need to be able to make the most of those."
What if the Jets brought in a veteran QB to compete for the starting job? "I'm going to make that dude's life hell in practice every day. I'm going to go out there and do my best to show the coaches I deserve to be there. It's not in a negative way, it's in a positive way."
Zach's attitude seemed good as he exited the One Jets Drive players' entrance after his truncated season, but reading will only be part of his offseason plan. He'll need to return for the spring, summer and fall and put everything he's absorbed this offseason into action for an eye-popping year three after a struggling first two seasons.
Not everything about 2021 and '22 was a battle, though. As general manager Joe Douglas said, "We all know the talent that Zach possesses," and it showed up when he returned from his preseason knee procedure and rehab. He and the Jets posted four consecutive wins and five out of six, a run that included triumphs in three notoriously tough road venues at Pittsburgh, Green Bay and Denver and was crowned by the 20-17 home win over Buffalo. Both the Steelers and Bills outcomes were secured on game-winning scoring drives in the final two minutes.
Yet Wilson's ups and downs with fundamentals and techniques continued. His 54.5% passing accuracy ticked down by a percentage point from his rookie season. After the 40 points in the home win over Miami, his offense generated no more than 20 points in his last seven starts, no touchdowns in two. He reduced his turnover frequency, except for the three-giveaway home loss to New England. His 3-and-out rate was high and his average-drive numbers low compared to the rest of the NFL's starters.
Wilson will work on his game as hard as he can, and he's owned the way the season went, for example in response to a question about coordinator Mike LaFleur, saying, "I wish I played better for him and for everybody in this locker room."
But he also had an interesting response when asked what exactly went wrong.
"It's tough. I think it's the NFL. I think it's the best way to explain it — the NFL is what went wrong," he said. "There's a lot of talented people out there, a lot of talented players, good coaching, good schemes, and everything is momentum and runs, and sometimes things go well and sometimes things go bad."
Jets fans can take that at face value or try to read between the lines. Either way, Wilson gives every indication he's coming back to the Jets' training complex book-smart and ready to apply all he's learned in his personal reading room to his on-field play in 2023.