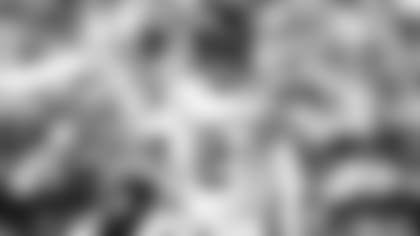 Zach Wilson and the Jets believe that better days are coming.
"He's a young man full of confidence," Jets head coach Robert Saleh said after Sunday's 25-6 home-opening loss to New England. "He'll watch tape this week and hit the rewind button. The young man is full of resolve. I know he will learn a ton off this experience."
Saleh, of course, was referring to his rookie quarterback's difficult first game at MetLife Stadium when he completed 19 of 33 for 210 yards, numbers that included four interceptions, two in the first quarter.
"This is what we sign up for," Wilson said after the game. "This is going to be a game with ups and downs. I think about how long the season is and I have to remember this situation. I'm an important piece for the team and I have to keep that swagger and mojo every week."
Though the Jets rushed for 152 yards -- led by rookie Michael Carter's 59 on 11 carriers -- it was the game through the air that scuttled drives and put pressure on the defense. Corey Davis, Wilson's No. 1 receiver, had 2 catches for 8 yards though rookie Elijah Moore hauled in 4 passes for 47 yards.
With the game still scoreless in the first quarter, the Jets (0-2) forced a Patriots (1-1) punt and took over inside their own 20. Wilson's first pass, intended for Davis amongst many Patriots defenders, was picked off by J.C. Jackson.
"He was a little off on that first one over the middle," Saleh said. "They [the Patriots] do a good job in man coverage. I know that's one of the throws Zach would like to have back."
Still in the first quarter, trailing by 3-0, the Jets looked to be on the move when Carter scampered for 13 yards into New England territory. But on the next play Wilson's deep pass on the right intended for Davis was intercepted by Adrian Phillips. Wilson ended the first quarter 0 of 4 with the 2 interceptions.
"The first two put our team, defensively, in a bad spot," Wilson said. "I have to do a better job, be smart with the ball. The turnovers were a deciding factor. I just have to do a better job."
New England took the turnover and needed seven plays to drive 6 plays and 72 yards with James White powering into the end zone from 7 yards out for a 10-0 lead.
Wilson and the Jets appeared to regain their footing early in the second quarter when the rookie from BYU hit his fellow rookie Moore with a pretty, lofting pass along the sideline. Moore's second reception as an NFL player was good for 27 yards to the New England 22. The drive stalled and Matt Ammendola converted a field-goal attempt from 21 yards out. Later, Jackson picked off his second of the game, stopping another Jets drive deep in Patriots territory. Wilson was 3 of 7 in the first half for 45 yards and 3 interceptions.
"On the second one, he bootlegged and threw high," Saleh said. "The third one to Moore again, he didn't put the zip on it he needed to."
Asked if he was concerned about Wilson's confidence during the game, Saleh said: "He was fine. He had a great look in his eyes. We had a good conversation. There are some things, fundamentally, that he has to understand -- taking care of ball basic stuff. We showed up to play, but when you lose to the turnover battle, 4-0, it is impossible, darn-near impossible to win.
"When you have a rookie quarterback -- and they have a rookie quarterback, too -- it's OK to play a boring game of fb. It really is. He is an electric dude, competitive. He wants to win so bad. Again, sometimes it's OK to be boring. I guess that's the lesson to take from this one."
The Jets only trailed by 10 points, 13-3, to start the second half and while the defense, which sacked Mac Jones three times, stood tall, the offense could not get untracked enough to push the Green & White into a position to challenge for the lead.
Though the home fans grew a bit restless late in the game, Wilson said he was not bothered.
"I was not really paying attention," Wilson said. "But they should be booing. We didn't play well on offense, we didn't execute, move ball or score points."