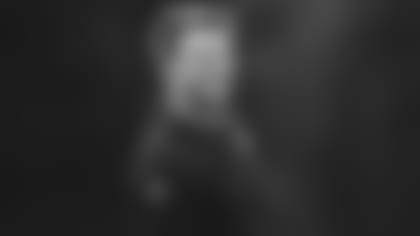 Many observers outside the Jets had a feeling Zach Wilson wasn't going to be available for their season opener against Baltimore on Sunday. And many inside the building at One Jets Drive no doubt had that same inkling, including the Jets' second-year quarterback himself.
"It wasn't a timeline thing," Wilson told reporters after Wednesday's practice about his prognosis for a return following his Aug. 16 knee procedure in Los Angeles. "But you understand when something takes a certain amount of time to heal. It was never like a week, it was like you've got to give it time to heal, you've got to go one week at a time."
Head coach Robert Saleh made it official at his late-morning news conference. There was some optimism that Wilson would be able to bounce back quickly from his meniscus repair and bone bruise to be ready to play in the opener, but Saleh said late Tuesday the Jets medical and training teams agreed Wilson would need the first three weeks of the season to reach the goal the coach set of being completely ready mentally and physically to return to action.
"We just made the decision he's not quite ready and we're rolling with Joe [Flacco]," Saleh said of his veteran backup QB and the former 11-year Raven. "It's going to be 110%, and that's going to be mentally and physically. When he's ready to go, we're going to put him on the field." And at this time that would be for Game 4 at Pittsburgh.
Wilson, needless to say, at one point had visions of passing all his medical tests and being ready to go in time for the Ravens.
"Of course, that was the goal," he said. "If it was up to me, I'd try and play right now. But listening to my doctors and staying in touch with them, that's what I'm going to go off of."
Wilson said he had frustration over the injury, which occurred when he made a split-second decision not to play it safe but to use his out-of-the-pocket "superpower" maneuverability to try to scramble for a first down, and it wound up hurting him. But he said he won't be changing his quarterbacking style anytime soon.
"I don't think I'll play any differently. People can say I should've gone out of bounds, I should've slid, but it was a non-contact injury," he said, adding, "Yeah, it's frustrating, of course. You want to be healthy as much as possible. When the injury happened, I was pissed at myself because it was a preseason game and all that stuff. You've got to be able to stay healthy."
This was Wilson's second injury to his right knee in nine months, but he said he doesn't think this injury in particular or the knee in general will be an issue once he gets back on the field, most likely Oct. 2 against the Steelers, on the grass footing known for two decades as Heinz Field, only to be renamed this year as Acrisure Stadium.
And for anyone wondering if young Wilson's return could be delayed should graybeard Flacco light it up while running the Jets offense, Saleh had a short two-sentence reply:
"Zach's our future. When Zach's healthy, he's rolling."
See the best images from Wednesday's practice leading up to the 2022 season opener against the Baltimore Ravens.