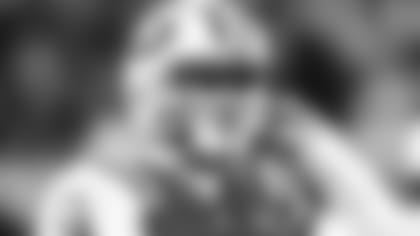 The turning point in Sam Darnold's first professional season started with a foot injury he suffered in the Jets' 13-6 loss to the Dolphins in Miami on Nov. 4. Even though the competitor in him didn't know it at the time, he needed to step away from the field.
"The break definitely helped me get a little more juice and a little more energy because that rookie wall is real," Darnold said this spring. "Don't get me wrong — I'm the last person to make an excuse, but it's a long year for us: going through the draft, combine, all those things that go along with the process, pro day, getting ready for so many different things."
There were things that were happening that were readily visible to any onlooker. Darnold's eyes were failing him in Miami as the Dolphins sent new looks at him and his feet followed. The result was a four-interception effort including a pick-six from LB Jerome Baker and Darnold absorbed punishment along the way while being sacked on four occasions. He would also deal with personal loss four days later when his beloved grandmother — Betty Jean Hammer — died on Nov. 8.
"It was starting to become a lot. I had some family stuff I was dealing with too, towards the end of the year right when I got hurt," Darnold said. "So it was just a lot and I think for me it was taking a step back and realizing, 'Hey, man. This is a game. You're supposed to go out there and have fun, not be so stressed.'"
The No. 3 overall selection in the 2018 Draft would sit for more than a month as his foot healed. Grizzled veteran Josh McCown, Darnold's backup last season and trusted confidant, led the Green & White for a three-game stretch. While the Jets wouldn't taste victory in any of McCown's starts, they ultimately won because Darnold took a step forward despite never getting a rep.
"He was able to sit in the classroom with me and teach me how to do things," Darnold said of the well-traveled McCown. "But I think more than anything, while I was hurt, watching him play those few games just really helped out there and taught me how to play fast. I think I kind of carried that on the last few games of the season where I thought I played my best football."
Darnold was a different player when he returned to action in Week 14 at Buffalo. Over a three-game stretch, he led nine red zone TD drives and had a TD drive rate of 33.3%, throwing for 764 yards with six touchdowns and one interception. He saw the field cleaner, showed poise in the pocket and used his legs to buy time while completing 66% of his passes for a passer rating of 106.2. The numbers were the result of the work leading up to gameday.
"I mean it's more fun than anyone has ever told me it was. I think that was the really cool part about it for me, knowing how much fun it is to actually go out there and play," he said. "But what made it fun was the preparation, preparing super hard and acing the test before it even happened."