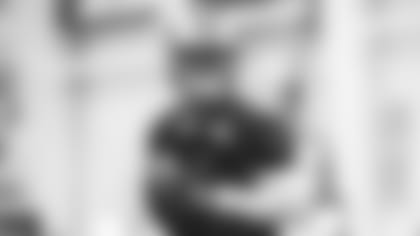 As the Jets start to turn the page from their 26-22 loss against the Titans to the Bills, head coach Todd Bowles isn't certain if quarterback Sam Darnold will practice fully this week.
"It remains to be seen," Bowles said. "I expect him to be out there and we'll evaluate him as he goes out there."
Darnold practiced on a limited basis last week for the first time since straining his right foot against the Dolphins on Nov. 4. The rookie signal caller has missed the past three games, but Bowles told reporters after Sunday's contest that Darnold was healthy enough to play despite being inactive in Tennessee.
"He just needed more reps," Bowles said. "You just can't bring him back after 14 to 17 days, even if he's healthy, to not have timing and everything else and put him out there today in a game like this. We'll reload this week and see where he is."
Darnold will receive the nod once Bowles believes the USC product is ready, which will be dependent on how he looks in practice this week.
"I'll just see where he is from an accuracy standpoint, a timing standpoint and a rust standpoint," he said. "He's got to see plays and I had him only throwing three times last week, which he did get better and everything was fine. But he'll get better even this week and then we'll make that determination on Sunday."
Last week, the 6'3", 225-pound Darnold told reporters his foot felt good following practice, but acknowledged there were times he felt his feet weren't quick enough. While Darnold has benefited from watching Josh McCown operate both on and off the field the last three weeks, the rookie is itching to buckle up his chinstrap on gameday again.
"I want to play really bad," he said last week. "But at the same time, I know that it's a process and I just have to go about protocol and understand exactly what I need to do to get better. So we'll go from there."