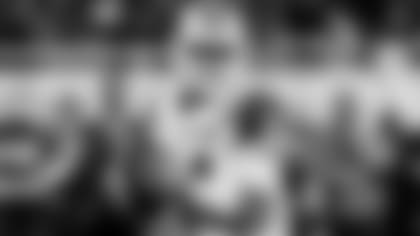 The opening scene looked like something straight out of a horror movie. After months of feel-goods, Sam Darnold hit adversity and sent Jets Nation covering its eyes. Veteran safety Quandre Diggs greeted Darnold with a 37-yard interception return for a score on the rookie's first play in the NFL, and his character was immediately put to the test in front of a nationally televised audience.
"I don't want to go out and throw a ton more picks after that. You just want to put that behind you and play good football," Darnold said after the game. "The key was letting the game come to me. I was licking my chops a little too much. I think in that situation, if I could do it over again, I would look at him, throw over his head or keep going to the right. Those are the plays you want to have back. But for me to have my first throw in the NFL an interception and then bounce back the way I did, but with help from my teammates, honestly, it couldn't have been better."
Darnold showed the football world what he is made of and then some in the Jets' historic rout over the Lions in Detroit Monday Night. With this being his first feature film, the even-keeled Darnold was determined to write a story based on the perseverance of a young talent who just wouldn't be rattled and would go home a winner.
"Hey, man, that was fun," Darnold said. "It was a full team effort, which was the really good thing about it. We talk about that all the time, one team, one goal, and it really was one team tonight. The defense had all those picks, Andre [Roberts] getting that punt return, and our offensive line took control from the start."
In becoming the youngest starter since the AFL-NFL merger in 1970 to start a season opener, Darnold connected on 11 of his final 14 first-half passes for 122 yards. His last toss before intermission went to Robby Anderson for 41 yards — Darnold's first professional TD as the Jets completed a 17-point run.
"He didn't flinch, he didn't even blink," said head coach Todd Bowes of Darnold. "Obviously he got it out of the way. I'm not going to sit here and say he planned it, so he could get the jitters out. But nobody flinched on the sideline and he came back and played well."
When his team needed him the most, Darnold kept drives alive on third down. He was 4-of-4 on third down in the game's first two quarters for 70 yards and also picked up a first down with his feet. His first scoring drive (a short one following Roberts' 32-yard punt return) was set up with him buying time on a third-and-6 and delivering a pass to Quincy Enunwa that the veteran bobbled a few times before corralling for an 8-yard gain.
Then on the Jets' second scoring march, which resulted in a 39-yard field goal from Jason Myers, offensive coordinator Jeremy Bates dialed up a Darnold run on third down. Lining up in the shotgun, Darnold converted a third-and-2 with a 6-yard sprint to the visiting sideline.
The Anderson touchdown came on third down as the vertical threat sprinted free down the sideline late in the half. Darnold appeared to wait maybe a second long, but he got the ball out in the nick of time and the speedy wideout hauled it in despite a spirited scuffle with a Lions defender.
Like any good movie, there would be drama again. Darnold wouldn't touch the ball again until early in the third after the Lions had knotted things at 17. And with Ford Field getting warmed up, Darnold lost himself in the moment and owned it in Detroit with Eminem in attendance.
The Jets would put the game away with an improbable 31-point run to end the third quarter. Darnold's work at 17-17 was critical because the Green & White ripped momentum back and that set up history. Darnold started a six-play possession with a quick 12-yard strike to Terrrelle Pryor and later threw a 20-yard dart to Pryor on the run while showcasing his accuracy on the run. His 21-yard touchdown to Enunwa would be all the Jets would need and started the fun.
Darron Lee followed with a 36-yard interception return, Roberts had a 78-yard punt return for a score, and Isaiah Crowell ripped off a 62-yarder into the end zone. Darnold was good and the Jets were great. He finished 16 of 21 for 198 yards with the two scores and the one interception. This one was all but over late in the third, and hundreds of Jets fans behind the visiting bench chanted J-E-T-S, Jets, Jets, Jets.
On a night when Sam Darnold became the youngest quarterback since the merger to start a team's season opener,
the 2018 Green & White set themselves apart with their most ever points on the road in franchise history. The kid is going to be just fine, and he proved his mettle at the earliest of times in his career.