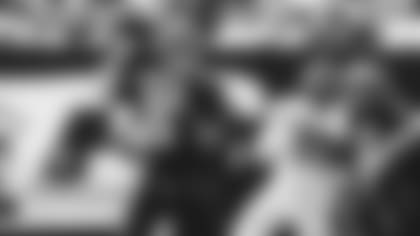 Mike White, when asked about the Jets' 34-31 Candy Crush-ing of the Cincinnati Bengals on Halloween afternoon, had the appropriate response:
"I think that's what makes it that much sweeter — 70-plus guys did see this one coming, and they're in this locker room. We went out there and did it. We overcame adversity. It wasn't a smooth win, but right down to the last drive, it was an awesome, awesome, awesome win."
What was also awesome, bordering on the unfathomable, was how White fit into this puzzle of how to come back from a 41-point loss at New England to compete with this scary theoretical frontrunner (through seven weeks) for the AFC's top playoff seed.
How did White do away with the Jets' much-talked-about scoreless first quarter over their first six games by artfully leading an opening 10-play, 75-yard, 6:22 drive to a game-opening touchdown and 7-0 lead?
How did he join Cam Newton as the only QBs since 1950 to throw for 400-plus yards in their first career NFL starts?
How did he find the 82.8% accuracy (37 of 45) in his throws to hang up the third-best game in franchise history behind only Chad Pennington in 2002 and Ken O'Brien in 1991?
How did he muster the experience to lead the Jets back from 11 points with 7½ minutes to play to two touchdowns to go ahead and then the final "four-minute drive" with 2:08 to play to keep the ball away from Joe Burrow and the Bengals?
White wasn't about to take any credit for himself on this remarkable day.
"I think it just goes into the preparation and the trust in the plan we put together, that [coordinator Mike] LaFleur put together, and trusting guys to execute," White said. "Guys were on their stuff. At practice, the end of the week was smooth. I hate to say it but I can't do it by myself. They've got to gain yards, they've got to break tackles."
No doubt White couldn't have done it without the 172 scrimmage yards from RB Michael Carter, the touchdown grabs, each exciting in its own way, by Braxton Berrios, Ty Johnson and Tyler Kroft, even the fantastic two-point option pass from Jamison Crowder that nestled into White's breadbasket to make the score a more manageable 34-31 lead with 3:45 to play.
But a whole lot of other people turned the praise back on the third-year QB with no playing time until last week in relief of Zach Wilson and today in his first pro start.
"He's a savage, he's a dog, he's an animal," RB Johnson said. "I told him before the game, 'You're a gunslinger so let's ride.' "
"We knew from the jump, we knew it wasn't going to be a problem," G Alijah Vera-Tucker said of how White would not only play but lead the offense. "You can tell Mike White's a leader. He likes to lead. ... Him being back there, we wanted to give him more time, but he didn't need it. He was doggin' it back there."
And before the player plaudits, there were the Halloween crowd at MetLife who took up the chant of a player whose name they never chanted before.
"At first, I had to kind of listen again. I'm like, 'Are they chanting my name?' " the QB said, adding he's never had his name chanted at any game he played in before. "That was pretty cool."
It was certainly deserved, said head coach Robert Saleh, who quickly eliminated any suspense by saying that White, not the recent trade acquisition Joe Flacco or a rapidly healing Wilson, would get the Thursday night start at Indianapolis.
"Yeah, why not?" Saleh said when asked if he thought White had this kind of performance in him. "I know sometimes, from the outside looking in, the decisions that scouts and coaches make can seem crazy. But we get to see these guys every day, see them operate. We're blessed to be around great players in the league. Mike is poised, he showed throughout training camp that he deserves to be one of those guys. And obviously he showed it today."
And now White will get to show it again on the Jets' only primetime game on their schedule, on the road vs. Indy. He was quick to remind that, no matter how much confidence he has in himself to do the job he did, it was all about treating his teammates and Jets fans to this Halloween victory and that he's listening to them, not any self-serving voices in his own head.
"Most definitely there's a lot of happy guys in that locker room," he said. "But multiple guys hinted that it's a quick turnaround. Use the rest of this day to celebrate, as we should — it was a good team victory. But it's a short week, so we've got to be able to move on tomorrow and get ready for the Colts."
See Best Images from the Game at MetLife Stadium