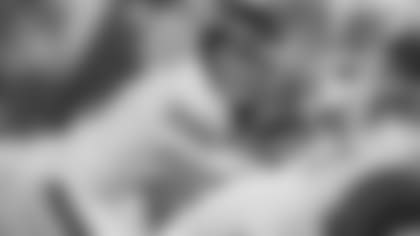 There was incredible joy and emotion from the Jets' come-from-behind 22-16 overtime win over the Bills on Monday night, from the time rookie free agent Xavier Gipson ran the game-winning punt return into the end zone and was mobbed by teammates as well as by head coach Robert Saleh all the way through the postgame locker room scene.
"What an amazing team win," proclaimed winning relief QB Zach Wilson,
But not far from the thoughts of every player, coach, employee and fan of the Green & White was the equally big story and exceedingly more painful story: Aaron Rodgers may be done for the season with a left Achilles injury that he suffered on his fourth snap as the Jets' future Hall of Fame QB.
"We're concerned with his Achilles," Saleh said. "The MRI is probably going to confirm what we think is going to happen. So prayers tonight .... but it's not good."
Rodgers got in just four offensive snaps on his first game drive as a Jet. One play was nullified by a penalty. He handed off once to Breece Hall for a 26-yard gain, then threw an incompletion, then tried to spin out of a pass rush by DE Leonard Floyd and got his left foot caught beneath him as he corkscrewed to the MetLife turf. Rodgers tried to rise, then sat back down and eventually was helped off the field, first to the Jets' blue sideline medical tent, then to the golfcart to go to the X-ray room.
Rodgers wasn't available after the game, but Saleh said enough to let everyone know that although the Jets have to put his injury is behind them and roll with the hand that will be dealt to them, Rodgers' injury was a real gut punch all the same.
"That's the part that sucks," Saleh said. "I'm going to enjoy this win. Winning in the NFL is hard regardless of who the quarterback is. But personally, I don't hurt for me, I don't hurt for the locker room. I hurt for Aaron. I'm still going to say a prayer, hold out hope. My heart's with Aaron now, no one else."
The Jets players were of a similar mind. First and foremost was Zach Wilson, whom Saleh said will be back under center as the teams' starting QB going forward.
"My heart breaks for Aaron," Wilson said. "The work that he's put in, he goes above and beyond. I have no idea what's going on with him, but my job is to make sure I'm ready to be able to step in there and run the offense efficiently. Aaron's the greatest of all time, in my opinion. I've got big shoes to fill."
And Wilson filled those spikes from snap five forward, although he started out slowly with a 5-for-8, 41-yard first-half passing line that included a bad interception thrown right to Bills MLB Matt Milano.
But his second half had a lot in common with last year's second half, when he led the Jets to their 20-17 home win over Josh Allen and the Bills in Game 9. In that second half, he completed 7 of 11 for 64 yards and a TD pass for a 109.7 passer rating.
He did lose a stripsack in that one. But perhaps the Milano pick served the purpose of that mistake because Wilson was flawless in the second half, completing 9 of 13 for 99 yards and a 3-yard TD pass over single coverage to Garrett Wilson, who outdid his TD catch from Rodgers on the same side of the same end zone in the preseason finale vs. the Giants.
"I thought Zach was awesome," Saleh summed up. "He had a couple of big third-down clutch throws to extend drives and score points. His command of the huddle, the line of scrimmage ... I thought he was gritty, he created off-schedule plays, he scrambled for a big gain. He threw the interception and still bounced back and it didn't snowball into anything big.
"We still have a lot of faith in him. We think we've proven that by keeping him here and investing in him. So I'm excited for him and his opportunity."
And the Jets' collective opportunity for this season won't change either. Saleh has called Rodgers "a coach who's still a player," and as soon as ARod can get back into the flow of things in meetings and film sessions and even on the practice field as a well-paid coach only. But the Jets' collective opportunity for this season won't change because Rodgers may be sidelined for its duration.
"You're always trying to win every game, get as far as you can get, win championships," Saleh said. "It's next man up. We'll try to keep rolling."
See the best photos from the 2023 home opener victory during Monday Night Football against the Bills.