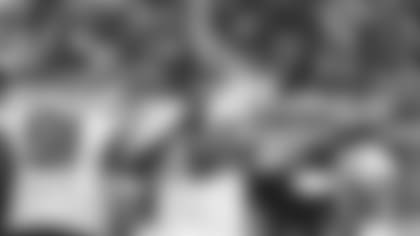 The backstory to the action film about how Quinnen Williams ate the NFL is that his growth has never been about his own appetite.
"It was an amazing feeling, man," Williams told reporters this week about being named to his first AFC Pro Bowl roster. "I'm just thankful to everybody on my team, everybody in the organization, because if it weren't for those guys, I would be nothing."
Bold statement, but as Williams explained, he likes to joke around with LB C.J. Mosley, another of his Jets teammates who will join him in participating in the redesigned Pro Bowl Games the first week of February.
"I tell C.J., 'Honestly, if you never give the call right or align us right, we would never be in position to make the plays and do the things we do,' " he said. "If it weren't for the defensive linemen next to me and the linebackers and Sauce Gardner and D.J. Reed and all the guys covering, there would be no sacks. So that's a celebration for me but a celebration for each and every one on my team for the work that we all put in."
As much as Williams spreads around the wealth, a lot of the Jets' defensive success has been a celebration of the damage that the 6-3, 303-pounder has been doing in his fourth pro season.
Those sacks, everyone knows about. His 12 takedowns are a career high, tied for seventh in the league, tops among interior linemen, and tied for seventh-most in a Jets season since 1982, when sacks became official. His 24 QB hits are tied for sixth in the league and are the most since Leonard Williams' 25 hits in 2017, and he can equal Muhammad Wilkerson's 28 QB hits in 2015 for the most by a Jets defender since the stat began to be tracked in 2001.
Then there are the individual plays, the kind that happen only once in a while but can play a big role in an important game. Such as on the Jaguars' third series of the Thursday night game, when he penetrated and popped Trevor Lawrence's short pass for RB Jamycal Hasty into the air for an incompletion and nearly an interception. That was only the third pass defense behind the line of scrimmage for the Jets this season. Williams has all three.
And that play succeeded his gem on the third defensive snap of the game, when he stripped Lawrence of the ball with Carl Lawson recovering at the Jags 16. After strip-sacking Aaron Rodgers earlier, Williams has two strips for the season and three for his career. One in the next two games and he'd be the first Jet since LB Aaron Maybin in 2011 to get three strips in a season and the first interior lineman with a single-season strip trifecta in franchise history.
"That felt great," Williams said of the sack. "Just watching film and different stuff like that, I knew what was going to happen, especially when it comes down to a dropback pass. I just worked on what we talked about and did the move to the best of my abilities. I ended up trying to make a game-changing play and get started especially early so that we started fast and got on a roll and got momentum."
It didn't quite work out like that for the Jets. But for plays big and small like the above, defensive coordinator Jeff Ulbrich said that even though Mosley, Gardner and Justin Hardee as a core special teamer also made the Pro Bowl, "Quinnen, I think that was the absolute most obvious one. Right now, he's probably playing as dominant as any defensive player, not just defensive linemen, in this league."
Williams as always thanks his coaches and teammates. And he doesn't pour anything more than necessary into the next game as he prepares to get after the Seahawks and Geno Smith, the former Jets quarterback, in Seattle on Sunday.
"I go into every game wanting to win and give my best," he said when asked if he paid attention to the playoff dominoes that fell the Jets' way last Sunday. "No matter what happens or not, depending on nobody or not, knowing what the outcome's going to be or not, I'm just giving my best each and every down, no matter what, in each and every game we have left."
See the top photos from Wednesday's practice leading up to the Seahawks game.