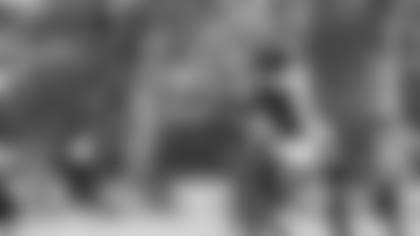 The Jets continue to prepare for game action by emphasizing game-like situations in practice. On Friday, the first-team offense was given the ball close to midfield with the score tied and less than a minute on the game clock. Gregg Williams brought the house, but the line held sturdy in front of Sam Darnold before he found a streaking Robby Anderson. The result was a house call for the offense as the touchdown covered 49 yards in all.
"It was zero, which means no one's in the middle of the field," said Darnold, who credited his line's great protection. "So it's one-on-one across the board and they're bringing an extra guy, more than we can block. What we call it is we just have to beat the adder. When the guy guarding the running back sees that the running back's blocking, he's going to add on and we can't block him. Robby ran a really good route and I put it on him and he was able to outrun the defense."
Anderson can certainly take the top off the defense, but he also rip a heart through its center. He established great chemistry down the stretch last December and the duo seem to have picked off where they left off. The second-year QB has limited turnovers throughout camp, making sound decisions and showing good awareness inside the pocket and sensing when it's time to get out.
"It's slowing down for him. If he doesn't like what he has, he gets the ball down to the back or the tight end or something underneath," said head coach Adam Gase. "You have to understand when there is a time to get greedy and when there is a time to pull back and just check the ball down. (He has the feel of) the protection, knowing when guys are leaking through the line of scrimmage and he knows when to get rid of the ball."
Before practice ended, things got more difficult for Darnold. During a 7-on7- drill and facing a third-and-goal from 9, he attempted to fire into the end zone to Jamison Crowder but was intercepted by Kyron Brown.
"Especially in practice, you want to learn what you can fit in there and what you can't," said the competitive Darnold. " I learned today that I couldn't fit a ball in there that I felt I could. It got intercepted, but you learn from that. I think practice is the time to do it rather than a game."
Goal Line Action
Much to the delight of left guard Kelechi Osemele, the Jets had a team period that featured goal-line work. When the first units were on the field, Darnold was credited with a scoring run and Osemele helped lead the way on a 2-yard TD from Le'Veon Bell.
"That was fun. That was a good time," said KO, who assisted on Bell's score with a double-team block on DL Leonard Williams. "That's what you want to do as a lineman, that's the situation you want to be in."
Darnold got the touchdown signal from the official despite OLB Harvey Langi closing in like a freight train. The quarterbacks don't wear red pinnies in camp, but Langi made the wise move of not touching the club's signal-caller as he stretched the ball over the pylon.
"I thought I could out-leverage him and get it in myself. He said he tackled me before I got in, but I said he didn't," Darnold said. "So we kind of went back-and-forth there but we'll see it on tape. But I think I got in."
Jetcetera
Both LT Kelvin Beachum and WR-RB Ty Montgomery suffered minor ankle injuries. Gase said they both could be day-to-day while cornerback Trurmaine Johnson was held out of the latter half of the session with a sore groin. Chuma Edoga, a third-round pick from USC, entered for Beachum and worked with the first unit.
"Coach was always like next man up," he said. "So I just had to go in there and make sure there was no fall-off, do my assignment and play hard."
Edoga held up well and got some praise from his quarterback.
"We were doing some stuff we installed a couple of days ago, so it was really fresh. But at the same time, he was on it so you could tell that he studied and put the work in," said Darnold, a fellow USC product. "I was really happy and stoked for him from that standpoint. Chuma did a great job once he got in there."
See the Best Photos from Practice No. 8 at Jets Training Camp