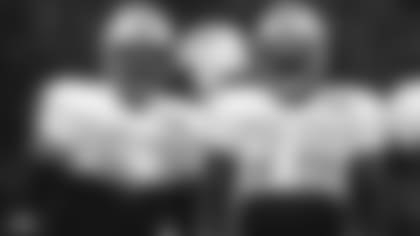 In honor of Salute to Service week, the Jets are wearing special camouflage practice jerseys. The players will sign the jerseys at the end of the week and they'll be auctioned off with all proceeds going to the Stephen Siller Tunnel to Towers Foundation.
"I think they're cool. This is the first time I've ever been a part of having practice jerseys with camo decked out," said wide receiver Rishard Matthews, whose father served over 20 years in the Marines. "I think that's cool and at the same time, it's very supportive and gives a more homey feel."
The seventh-year veteran likes the jerseys so much that he believes they should be incorporated into the gameday uniform down the road.
"What better place to do it first than New York, right?" he said.
Fellow wideout Quincy Enunwa shared a similar thought.
"It's nice. I like it," Enunwa said. "It's unfortunate that we don't get to keep it, but it's fortunate what we are doing with them."
In honor of Salute to Service Week, the Jets are wearing special practice jerseys.