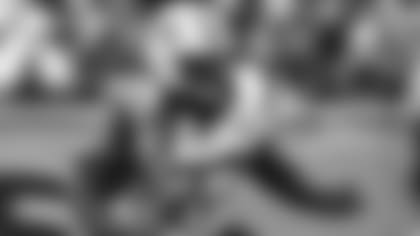 The Jets have placed starting left guard James Carpenter on injured reserve with a shoulder injury. They also have signed G Ben Braden from the practice squad to the active roster and have signed RB Mark Thompson to their practice squad.
Carpenter, the 25th overall pick of the 2011 NFL Draft out of Alabama by Seattle, had been an iron man in the Jets lineup since signing as an unrestricted free agent from the Seahawks in 2015. He started all 58 games from the '15 season opener against Cleveland through Game 10 against Buffalo this season. He was in for every offensive play in 2017 and played in 97% of the Jets' snaps since 2015 (3,759 of 3,874 plays).
But "Carp" had been bothered by a shoulder problem coming out of the Minnesota game. He practiced full in the weeks before the Chicago and Miami games but was limited the first two practices before Buffalo. The bye week didn't resolve the issue and he sat out practice all last week before being deactivated before the New England game.
The Jets rearranged their interior line for the Patriots, moving Spencer Long, Washington's starting LG in 2015 before moving to center the next year, from center to guard for the Pats and starting Jonotthan Harrison his third start this season at center.
Braden (6'6", 329) signed as an undrafted free agent out of Michigan after the 2017 draft and spent all of last season on the Jets' practice squad. He signed a reserve/future deal on Jan. 1 this year and made it through to the regular season on the active roster. But he was deactivated for the Detroit opener, was waived on Sept. 12 and was re-signed to the practice squad two days later.
Thompson (6'2", 239), was signed as an undrafted free agent out of Florida by Baltimore after this year's draft. This preseason for the Ravens he had 31 carries for 146 yards (4.7 yards/carry) and 10 receptions for 76 yards. He was a final cut by Baltimore and then was signed briefly to the Ravens' practice squad.