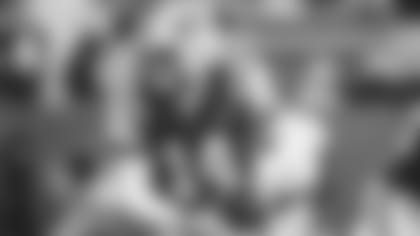 Darnold-Brady
Just one week after locking up with Aaron Rodgers, Sam Darnold will face Tom Brady for the first time when the Jets and the Patriots conclude their regular seasons Sunday at Gillette Stadium. Darnold is ending the year on a tear, having posted a career-high 128.4 passer rating against the Packers in Week 16 while throwing for a personal-best 341 yards and matching an individual high with three TD throws.
"He is just playing good football and he has a good head on his shoulders," said head coach Todd Bowles of Darnold, who has completed 66% of his passes with six touchdowns and just one interception since returning from a foot strain. "He's learning and he's maturing, and you like what you see."
While Darnold is just 21, the 41-year-old Brady is still playing at a high level and expressed his desire this week to continue playing in 2019 and beyond. Darnold has learned a lot over the years by watching Brady — a five-time Super Bowl champion, four-time Super Bowl MVP and three-time NFL MVP — win the mental game.
"Just how quick and decisive he is with the football. Always making quick decisions, making the defense think twice about what they're doing," Darnold said of Brady. "I think that's really the style of offense that you want to have. No matter what type of offense you're in, you want to just be able to move fast and make the defense second guess themselves because that's the name of the game."
Chemistry Is Building
With Darnold gaining confidence by the week, wideout Robby Anderson and tight end Chris Herndon are getting more and more involved in the offense. Anderson, a 6'3", 190-pound speedster in his third professional season, has led the club in receiving in four consecutive contests. He had a career-high nine receptions for a season-high 140 yards against the Packers and had a touchdown.
Anderson has a team-leading 728 yards receiving and six touchdowns, including three TDs in his last three games. Herndon, whose four touchdowns are the most by a rookie tight end in franchise history and are tied for the most among rookie tight ends in the NFL this season, had six receptions in Week 16 action for a season-high 82 yards with a touchdown. Herndon's 494 receiving yards are second-most among rookie tight ends in the league.
"Growth, we're building that chemistry," Anderson said. "That's what it's about, it's going to take time. Think we're taking the steps in the right direction."
Sack Race
The Jets rank tied for 14th in the NFL with 38 sacks with OLB Jordan Jenkins and DL Henry Anderson are leading the way with seven apiece. The 6'6", 301-pound Anderson had combined to rack up three sacks in 29 games in Indianapolis from 2015-17.
"It's been good to get a few sacks here and there, but again it just kind of feels empty when we keep losing these close ballgames," said Anderson, who was acquired for a seventh-round pick from the Colts on draft weekend. "It feels good in the moment when you get the sack, but then in the locker room after the game you kind of have that empty feeling. What could you have done a little bit more to help the team win?"
While the Green & White have held fourth quarter leads in their past four games, they've been unable to get key stops and were 1-3 in Weeks 13-16.
"It's been really frustrating. The last couple of games if the defense steps up at the end of the game, we would win the ballgame," Anderson said. "We want to be considered a top NFL defense and we haven't stepped up to the challenge these last couple of weeks especially at the end of games."
Out for No. 1
The Patriots have an opportunity to gain the AFC's No. 1 seed with a win over the Jets coupled with a Chargers loss at Denver and a Chiefs loss to Oakland. They would be the conference's No. 2 seed if they win against the Jets, but the Pats would drop to a No. 3 seed with a loss to the Green & White paired with wins by the Texans or the Ravens.
"We have the opportunity to go to a division opponent," said LT Kelvin Beachum. "I know they still have things to play for, it's still a meaningful game for both parties. It's a great opportunity to get a win honestly."
Linebacker Avery Williamson, a fourth alternate for the Pro Bowl who leads the defense with 149 tackles and has added three sacks, two forced fumbles, one fumble recovery and one interception, wants to end his first season in green & white with a victory.
"A win's a win, so it would be great to end the season with five wins," he said.
Eli's Elevation
Overlooked by Darnold's late surge has been the play of RB Eli McGuire. The second-year RB has recorded a touchdown in three consecutive games and had four scores in Weeks 14-16. McGuire, who will play in just his eighth game Sunday, needs just 81 yards and one reception to surpass his rushing total (315) and reception haul (17) from his 16-game rookie campaign.
"I'm going to have to leave everything out there and that's my mindset going into this game," McGuire said this week on Inside the Jets. "Leaving everything out there and playing hard for my team. I want to play so hard that they have to drag me off the field."