Baseball isn't the only sport with rites of spring. In the NFL, there is free agency, the release of the schedule, and the start of all teams' offseason conditioning programs.
The Jets kicked off Phase 1 of their program today at the Atlantic Health Training Center with strength and conditioning and classroom activity, plus a first-day greeting from head coach Todd Bowles.
"I think the biggest thing was to enjoy this process," WR Eric Decker said of Bowles' message. "He set the bar with what the expectations are for us this offseason, what it takes to be a championship team. We're not really looking back to last year but building off of what we have in this locker room right now.
"And he just challenged everyone that this is voluntary but if you're going to show up, work hard and make every day count so that when training camp comes around, you know your assignments, you're in good shape, and you're ready to expect the best out of each individual."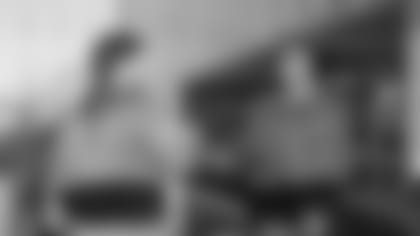 Naturally, Decker was asked about the contract situation between the team and QB Ryan Fitzpatrick. Decker said, "I can't say that I foresee one thing happening or another." But he and WR Brandon Marshall said they filled Fitz in with some playful video of the events of the day. Meanwhile ...
"Each individual has to do his part to make himself better, get in the weightroom, get bigger, faster, stronger," he said, adding of any lingering effects of the season-ending loss at Buffalo, "I flushed last year. ... At this point, it's in the past, it's a learning experience. We've got a new team, a new look, new expectations. We've just got to focus on what we can do to get better going into this season."
LB David Harris, entering his 10th season, all as a Jet, is very aware of the new look on the fields and in the meeting rooms.
"Today's more about seeing everybody again, meeting new guys in the room," Harris said. "There's a lot of new faces this year, a lot of new names to be known. It's good to be back. It's like going back to school, coming off break. I know a lot of guys are anxious to get back after taking 3½ months off."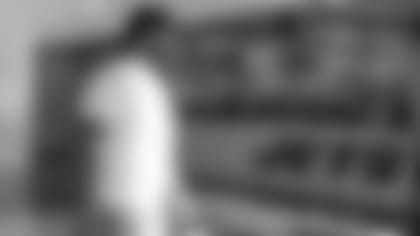 One face lining up next to him in the middle of the defense is new, at least as a starter. Erin Henderson joined the Jets last year, but now he'll get a shot to line up next to Harris after Demario Davis, who started the previous three seasons at ILB, departed in free agency for Cleveland.
"I think Erin has higher expectations than anybody else," Harris said. "He's been a starter in this league for many years, and I expect him to play at a high level."
Safety Marcus Gilchrist is another who's surveying the new landscape. With Antonio Cromartie departed, Gilchrist said he has no concerns at corner with Buster Skrine, who came to the Jets with Gilchrist last year after being a Browns starter.
"Just put on the film of Cleveland before Buster got here," Gilchrist said. "He played outside and moved inside when they went to third down. It just so happened we had Cromartie and [Darrelle] Revis and he was more of a nickelback last year. But there's no doubt he can play. It's been proven."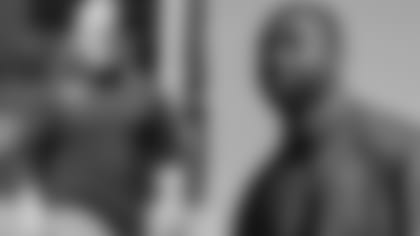 Gilchrist also has high hopes for a new Jet, Jarvis Jenkins, the former Bears DE whom the safety knows extraordinarily well from their days together at Clemson.
"Obviously, when you live with somebody for four years in college, you're going to have a close relationship," he said. "We're living in the same complex now, working out together, we've traveled together in the offseason, our families are still close, I go to his camp and he goes to mine." He sees Jenkins being "real versatile" on the Jets' D-line.
Decker had a similar relationship with new Jets left tackle Ryan Clady, not as a college roomie but as a four-year pro teammate of Clady's in Denver. The two renewed acquaintances before today's opening session of the voluntary program.
"When he's healthy, I think he's one of the best," Decker said. "It was unfortunate to see Brick [D'Brickashaw Ferguson] retire, but Ryan can be a factor for us."