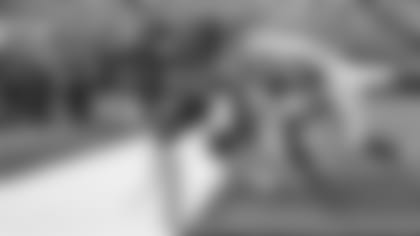 It may be hard for fans of the Green & White to take much joy out of the Jets' start, but one element of the Jets' operation that had a bit of a sparkle even in the wake of the team's seventh loss of the season was how three rookies on offense, part of the Jets' 2020 draft class, performed against the Bills on Sunday.
"I liked the way we started as an offense," fourth-round RB La'Mical Perine said after the 18-10 loss. "That was something we'd been working on all week. I feel like we started off well. We've just got to continue to move forward and use that as motivation to see that we've got to finish games."
"Most def," Perine said of his excitement about him, second-round WR Denzel Mims and first-round LT Mekhi Becton all getting on the field for their first game as pros and making some noise. "It was great to see Mims out there just because he hasn't been out there the whole season, he didn't have a training camp. For him to be as confident as he was, I wasn't surprised but it was just good to see. And Mekhi, he's a great dude, a great player who's always going to work hard and be the guy he is. They drafted him in the first round for a reason and he's putting everybody on notice."
But Perine was being modest because he may have had the most productive game of those three rookies.
"That's what we were hoping for," Head Coach Adam Gase said, "to give him some opportunities to see if we can get some explosive plays. He can also get the tough yards as well. We just wanted to put him in the best position possible."
Jets fans have become familiar with Becton first. He missed the previous two games due to a shoulder injury but his start against the Bills was his fifth of the season and fans and players are getting used to seeing No. 77 throw his weight around.
Mims, meanwhile, had been bothered by hamstring issues since camp began. But he began practicing again on Oct. 14 and on Saturday he was activated from IR. And in the first 30 minutes against the Bills, he showed some of his skills with 4 receptions from Sam Darnold for 42 yards and 2 first downs. The yardage and first downs led all Jets receivers and the four catches were tied with Braxton Berrios for the tops on the team in the game.
"I was very excited when I had my first catch — I had a big grin on my face," Mims said of a 5-yard grab to the Bills 24 on the sixth offensive play of the game. "I always told myself I can make plays. When they call my number, I try to make the play, and when they call somebody else's number, I try to get in position to help them make the play. To be out there with my team, it feels great."
Darnold said: "Denzel did some really good things out there for us. ," Darnold said. "He's a big body, a fast dude who can go up and make plays, make contested catches, which is always good for us. So we're going to continue to use him in ways that provide us opportunities for that."
Perine has also been around, but his offensive plays and touches had been limited in the first six games. On Sunday, his contributions were perhaps most eye-opening: 11 carries for 39 yards, including his veteran-style 5-yard sweep and TD, which he secured by reaching for the pylon with the ball and making the touch before he landed out of bounds.
It was his first pro score as well as the only touchdown in the game.
"It was an amazing feeling," Perine said. "Just being in the NFL is a blessing, but being able to score a touchdown in the NFL is even better. My hat's off to my offensive line, man, for just blocking for me and giving me that opportunity to make a play. ... It's a blessing to score my first touchdown. I'm hoping to have many more. But I would've loved to get a win today. That would've felt even better."
Just as significant for Perine: He racked up seven first downs in the first half, six rushing and one receiving. Those seven first downs are the most by any Jet in a first half since Bilal Powell had eight in the 2016 home game against the Bills and before that since Thomas Jones had eight in the 2008 home game vs. the Rams. For rookies, Perine is the first Jets player to have more than six in either half since at least 1990. That's impressive.
Needless to say, having 60 minutes of Perine's and Mims' production instead of just 30 would've been better.Mims had one target and no catches in the second half, while Perine had one rush for 3 yards and no first downs in the last two quarters.
So much more work needs to be done on offense, but with the rookies contributing not only their physical skills but their anything's-possible attitude, things may well look better in the final nine weeks of the 2020 campaign, perhaps even starting next Sunday at Arrowhead Stadium against the formidable Chiefs.
"I just feel like we've got to make the plays when they're there, take what the defensive gives us," Mims said. "I didn't know we had 16 plays in the second half. But we're a much better team than that. And we've got to come out next game, second half, and make sure we finish it like the first half."